huru RIM BRAKE
climbing
-
HURU - Maroon 1928
Meaning "Feather" in Māori
WHAT YOU GET
Frame
Fork
C2 fork expansion bolt
C2 TUMU Seatpost
Headset
Headset spacer kit
Seatpost
Thru Axles
or 4 interest free payments by Zip
info
Delivery
FREE on orders over $99
Returns
30-day returns. Read our policy.
CHAPTER2 - HURU RIM BRAKE - MAROON 1928
ABOUT THE FRAME
If the joy of being in the zone and scaling gradients that push you to the limit is what stirs you, then the HURU is the perfect tool for the job. HURU means "feather" in Māori, and its classic contours cleverly disguise the engineering needed to develop a high-performance lightweight frame.
As the saying goes, "what goes up must come down", so whilst the HURU has you covered for the former, the HURU also excels in the latter so that you can descend confidently on a frame platform that has cornering dexterity that matches its climbing prowess.
The pencil-thin seatstays that dampen road vibrations are beautifully merged into the seat tube and top tube junction that supports our lightweight TUMU 27.2mm seatpost.
Using over 300 unique pieces of Pre-Preg Carbon Fibre carefully laid into stainless steel moulds by hand, the HURU is the ultimate alpine machine.
MODEL BENEFITS
Lightweight Design: Improved Climbing Performance
High Modulas Carbon (Headtube): Increased Cornering Performance
High Modulas Carbon (BB): Increased Power Transfer
Rim & Disc Options: Both Options Available
Frameset Only: Bespoke & Personal
Limited Edition: Exclusivity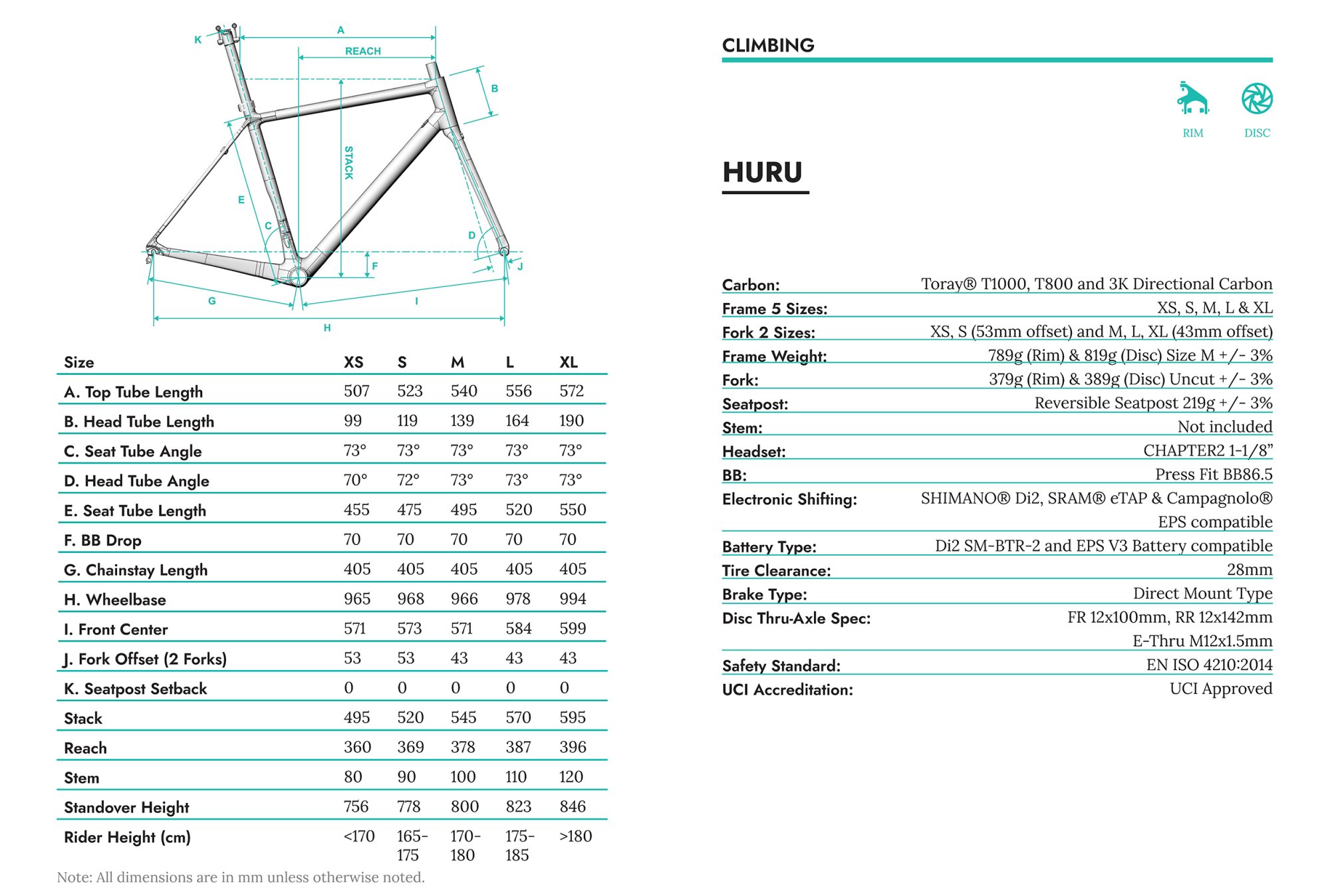 TORQUE SPECS
Saddle Rail: 8Nm
Seatclamp: 6Nm
Front Derailleur Hanger: 3Nm
Rear Derailleur Hanger: 2Nm
BB Cable Guide Cover: 1Nm
Thru-Axle: 10Nm
Water Bottle Cage Bolts: 3Nm
---
EXCLUSIVE BRAND,
WITH A BOUTIQUE BIKE SPIRIT.
CHAPTER2 is an exclusive brand with a boutique spirit, crafting framesets for discerning individuals who believe the process of creating a personal statement is as important as building their dream bike.
At the heart of CHAPTER2, we find the extraordinary and diverse nature of New Zealand sculpted in each frame design. This earth is inhabited by 1,000 years of Māori heritage known for its legendary warrior spirit, which is our soul, our inspiration, our why. CHAPTER2 bikes use Japanese-made Toray® carbon fibre exclusively and have all been fully tested at Auckland University's Wind Tunnel, the same facility where Emirates Team NZ (America's Cup) does their testing.
---
RIDE YOUR
NEXT CHAPTER.