tere
All-ROAD
-
TERE - Ahuriri (Purple + Sky)
Meaning "be quick, swift and fast" in Māori
WHAT YOU GET
Frame
Fork
Stem
C2 fork expansion bolt
Headset
Headset spacer kit
Seatpost
Thru Axles
DELIVERY TIMEFRAME
Your frameset will be shipped directly to you from Chapter2's warehouse facility in Hong Kong via DHL, with Wide Open handling all aspects of the delivery process. All prices include shipping costs. Please allow 1-2 weeks for delivery from the time of placing your order.
or 4 interest free payments by Zip
info
Delivery
FREE on orders over $99
Returns
30-day returns. Read our policy.
CHAPTER2 - TERE - AHURIRI (PURPLE + SKY)
ABOUT THE FRAME
The TERE is the quintessential Performance All-Road frame designed to excel in all conditions, whether you fit into the weekend warrior or a seasoned pro genre. The word TERE means "be quick, swift, and fast" in Māori and the TERE delivers on that promise on every occasion.
The TERE sits in our All-Road category of frame platforms. Its unique silhouette has been carefully engineered to ensure that its stiffness to weight ratio is perfectly dialled for unrivalled performance, whether you are racing your local crit, climbing the most epic mountain, or just out for your local coffee shop ride.
With sunrise to sunset riding in variable conditions in mind, the TERE's vibration dampening seatstays and seatpost, combined with its more upright stance, will mean that you'll be able to give it everything, all-day long
Available in both Rim and Disc versions with subtle yet effective Kamm-Tail profiles tested at Auckland University's Wind Tunnel, the use of high-tensile directional carbon fibre in the headtube will mean that you can throw the TERE into any tight corner knowing it will track true and confidently every time.
MODEL BENEFITS
Stiff Racing Frame: Improved Power Transfer & Precise Steering
Compact Kamm-Tail: Aerodynamic & Stiffness where Needed
High Modulas Carbon (Headtube): Increased Cornering Performance
High Modulas Carbon (BB): Increased Power Transfer
Dropped Stays: Improved Compliance for Endurance Rides
Rim & Disc Options: Both Options are Available
Frameset Only: Bespoke & Personal
Limited Edition: Exclusivity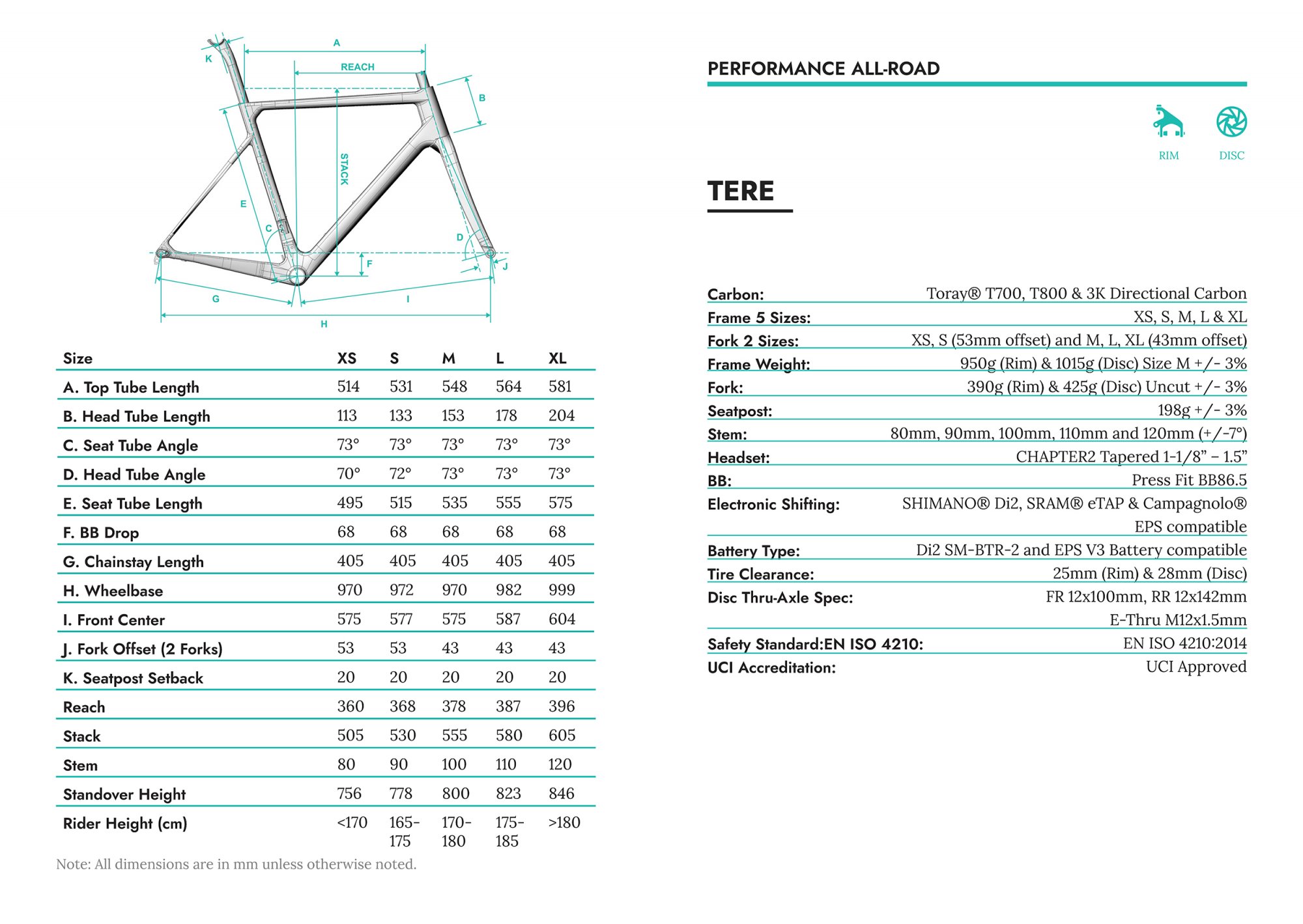 TORQUE SPECS
Saddle Rail: 12Nm
Seatclamp: 10-12Nm
Stem (Steerer): 6Nm
Stem (Handlebar): 6Nm
Front Derailleur Hanger: 3Nm
Rear Derailleur Hanger: 2Nm
BB Cable Guide Cover: 1Nm
Thru-Axle: 10Nm
Water Bottle Cage Bolts: 3Nm
---
EXCLUSIVE BRAND,
WITH A BOUTIQUE BIKE SPIRIT.
CHAPTER2 is an exclusive brand with a boutique spirit, crafting framesets for discerning individuals who believe the process of creating a personal statement is as important as building their dream bike.
At the heart of CHAPTER2, we find the extraordinary and diverse nature of New Zealand sculpted in each frame design. This earth is inhabited by 1,000 years of Māori heritage known for its legendary warrior spirit, which is our soul, our inspiration, our why. CHAPTER2 bikes use Japanese-made Toray® carbon fibre exclusively and have all been fully tested at Auckland University's Wind Tunnel, the same facility where Emirates Team NZ (America's Cup) does their testing.
---
RIDE YOUR
NEXT CHAPTER.