APPLICATION: Commute, Pathway
CASING CONSTRUCTION: Wire Bead
TPI: 60 tpi
TREAD COMPOUND: Dynamic
CASING/PROTECTION: S5:Shell
DIAMETER: 700c
WIDTH: 35mm, 40mm
E-READY: Meets ECE-R75 Requirements
TUBELESS READY: No, Tube Type only
WEIGHT: 889g (35mm), 1009g (40mm)
or 4 interest free payments by Zip
info
Delivery
FREE on orders over $99
Returns
30-day returns. Read our policy.
GOODYEAR - TRANSIT SPEED TYRE - SECURE
At home flowing through urban centers and along bike paths, the Transit Speed is a fast-rolling urban tyre combining confidence-inspiring handling with great durability. The Transit Speed range comes equipped with 5mm reflective sidewall stripes to enhance visibility. Meeting the ECE-R75 requirements for use with modern eBikes, the Transit Speed delivers both performance and durability.
DYNAMIC COMPOUNDING
Formulated for on-road applications, with an emphasis on durability.
PROTECTION
S:5 Shell uses a 5mm aramid infused sub-tread layer provides robust puncture protection.
SECURE SIDEWALL
Anti-Cut layer for added sidewall protection.
REFLECTIVE STRIPE
R-88 compliant sidewall for increased lowlight visibility.
E-BIKE READY
Meets ECE-R75 requirements for use with modern eBikes.
---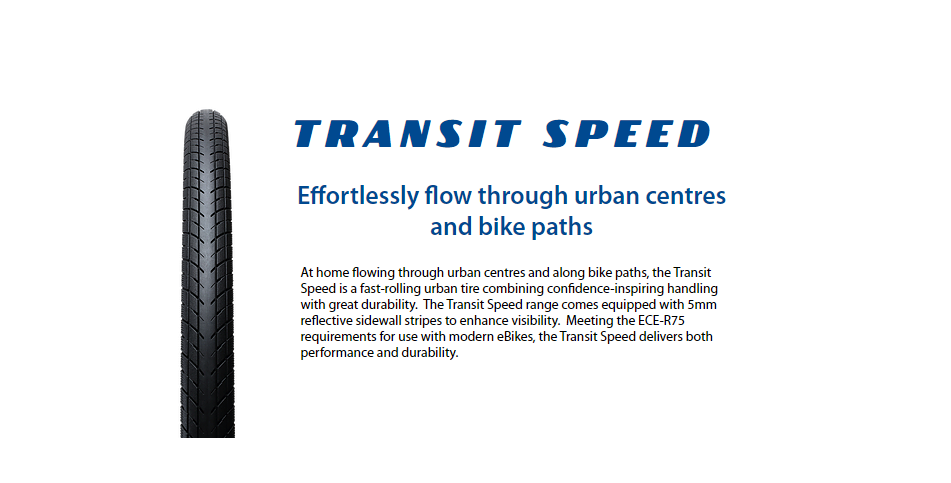 ---
The Story
The Goodyear name first appeared on a tyre — a bicycle tyre, to be precise — in 1898. Since then, Goodyear and the legendary Winged Foot™ logo have been synonymous with victory, dominating the winner's circle across the entire spectrum of motorsports. Goodyear tyres have shouldered heavy-duty work on everything from airplanes to Zambonis. They've rolled on the moon and have helped steer millions of motorists along their journeys.
Now, 120 years after Goodyear's original offering, we welcome a new line of performance bicycle tyres. Developed with Rubber Kinetics, the Goodyear line utilizes refined compounds and casings, each purpose-built for their intended environments.
GOODYEAR - TRANSIT SPEED TYRE - SECURE