SPECS
DIAMETER: 700c
RIM DEPTH: 45MM
INNER RIM WIDTH: 21mm
HOLE COUNT: 24h/24h
HUB: ENVE Foundation Alloy
SPOKES: Spaim CX Sprint
NIPPLES: Brass Internal
DRIVETRAIN: HG, Campagnolo, XDR
RECOMMENDED TIRE WIDTH: 25-26mm
WEIGHT: 1540g
PRODUCT DESCRIPTIONTECHNICAL FEATURES
FOUNDATION 45 DISC WHEELSET
This 45mm deep wheelset is aerodynamically optimized and strikes a refined balance between stability, speed, and weight-savings. In addition, features like tubeless compatibility, and Wide Hookless Bead technology make the ENVE 45 the perfect choice for the rider who wants to ride all roads.
KEY TECHNOLOGIES
Tubeless For The Win: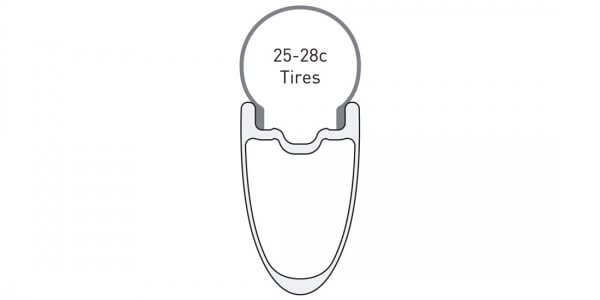 Wide Hookless Bead - Pot-Hole and Impact Protection

LIFETIME INCIDENT PROTECTION AND 5 YEAR WARRANTY
As a member of the Family and the original owner of your ENVE product, you'll qualify for ENVE's Lifetime Incident Protection and have access to ENVE's industry-leading 5-Year Limited Warranty.
TECH INFO
Disc Brake Only
Aero Optimized for 25c to 28c Tubeless Tires
Tubeless Compatible Only
Hookless Construction
May run inner-tubes with tubeless tire
FOUNDATION 45 DISC WHEELSET
"A best-in-class ride experience through crafted carbon and core ENVE technologies."
The ENVE 45 and 65 are named after their respective rim depths and pay tribute to the original ENVE road wheels that were introduced to the aftermarket in 2007.
The ENVE 45 and 65 benefit from a knowledge base established over more than a decade's worth of aero wheel development of the premium Smart ENVE System (SES) lineup.