Hydration backpack for mountain biking on technical terrain
Product Series Guide:
| | |
| --- | --- |
| Expedition | Travel further by bike, everywhere from the weekend ride to a global tour. |
| Backcountry | Optimised for technical riding, singletrack and mountain trails. |
| Racing | Racing Series unites minimal weight and optimal performance in an uncompromising package that also excels in everyday rides. |
or 4 interest free payments by Zip
info
Delivery
FREE on orders over $99
Returns
30-day returns. Read our policy.
APIDURA - BACKCOUNTRY SERIES HYDRATION BACKPACK
Designed for mountain biking and long rides in remote locations where extra water carrying capacity and increased storage are essential, the Backcountry Hydration Backpack adds significant capacity and versatility to mountain bike setups. It features our custom 2L fast-flow bladder, a 12L main storage compartment and an additional 2L of capacity spread across easy-access pockets.
Constructed from a lightweight, breathable 3D mesh, the Backcountry Hydration Backpack features an endurance on-bike anatomic fit for unrivalled stability and all-day comfort. Two rear stretch mesh pockets provide on-the-bike storage and access for food, drinks, and mid-ride essentials, while an additional font mesh pocket and zippered device pocket keeps your smartphone and snacks close to hand. A large, roll-top compartment on the back provides serious storage and features a high-contrast reflective design and a light attachment point for enhanced visibility in all light conditions.
The Hydration Backpack is available in two sizes to enable the perfect fit for all body shapes. Adjustable sternum straps ensure a comfortable fit, with further side adjustment to ensure there is no unwanted movement while riding. Hydration hose organisation loops and a magnetic clip keep the hose nearby, yet out of the way.
CAPACITY
S/M: 14L total pack capacity (2.0L bladder)
L/XL: 14.5L total pack capacity (2.0L bladder)
https://medias.apidura.com/2023/04/apidura-backcountry-hydration-backpack-product-presentation.mp4
---
SPECIFICATIONS
The small/medium Backpack is designed for riders with a 60-95cm chest measurement and the large/extra large will fit riders from 96-125cm.
S/M | WEIGHT 460G | CAPACITY 14L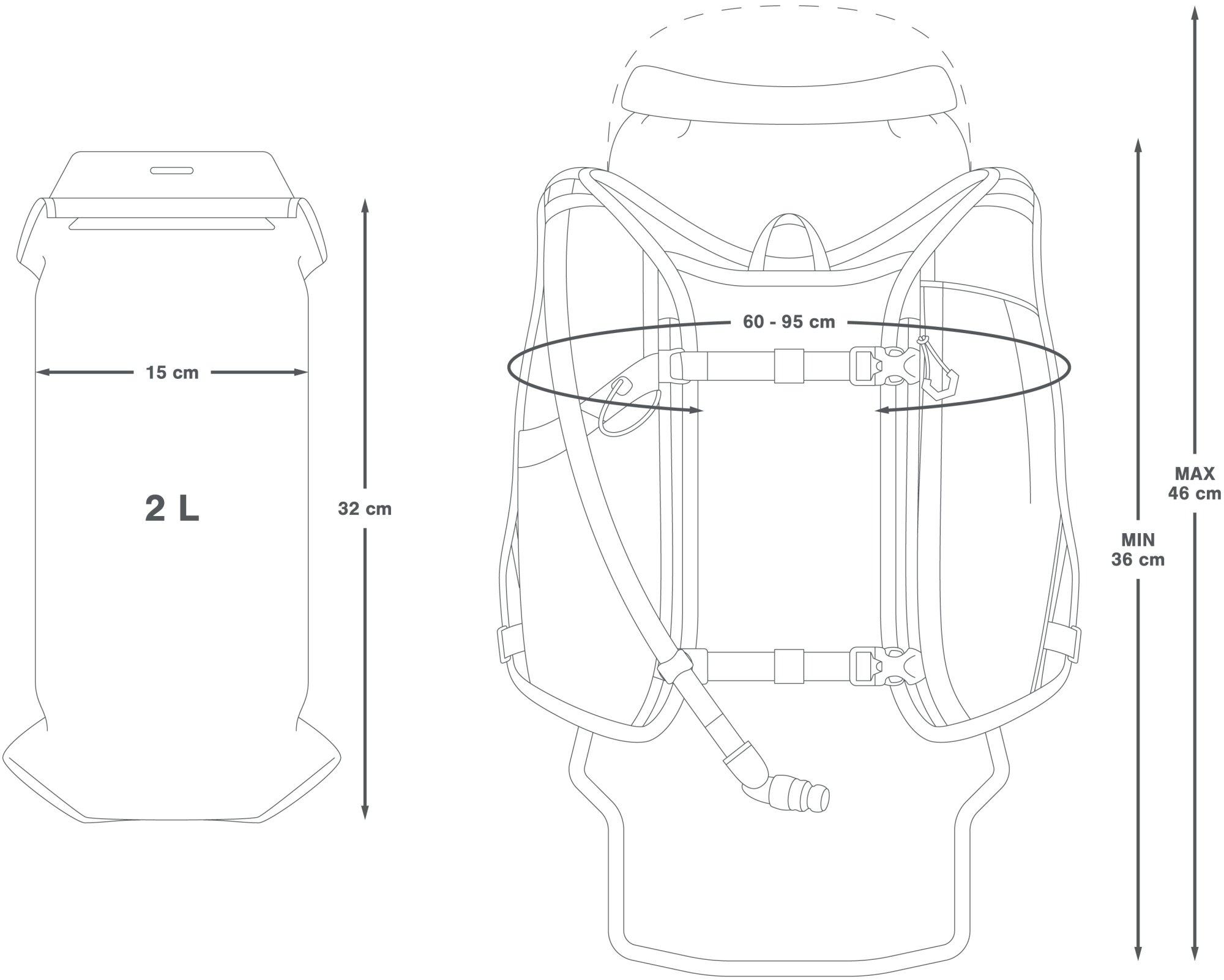 L/XL | WEIGHT 465G | CAPACITY 14.5L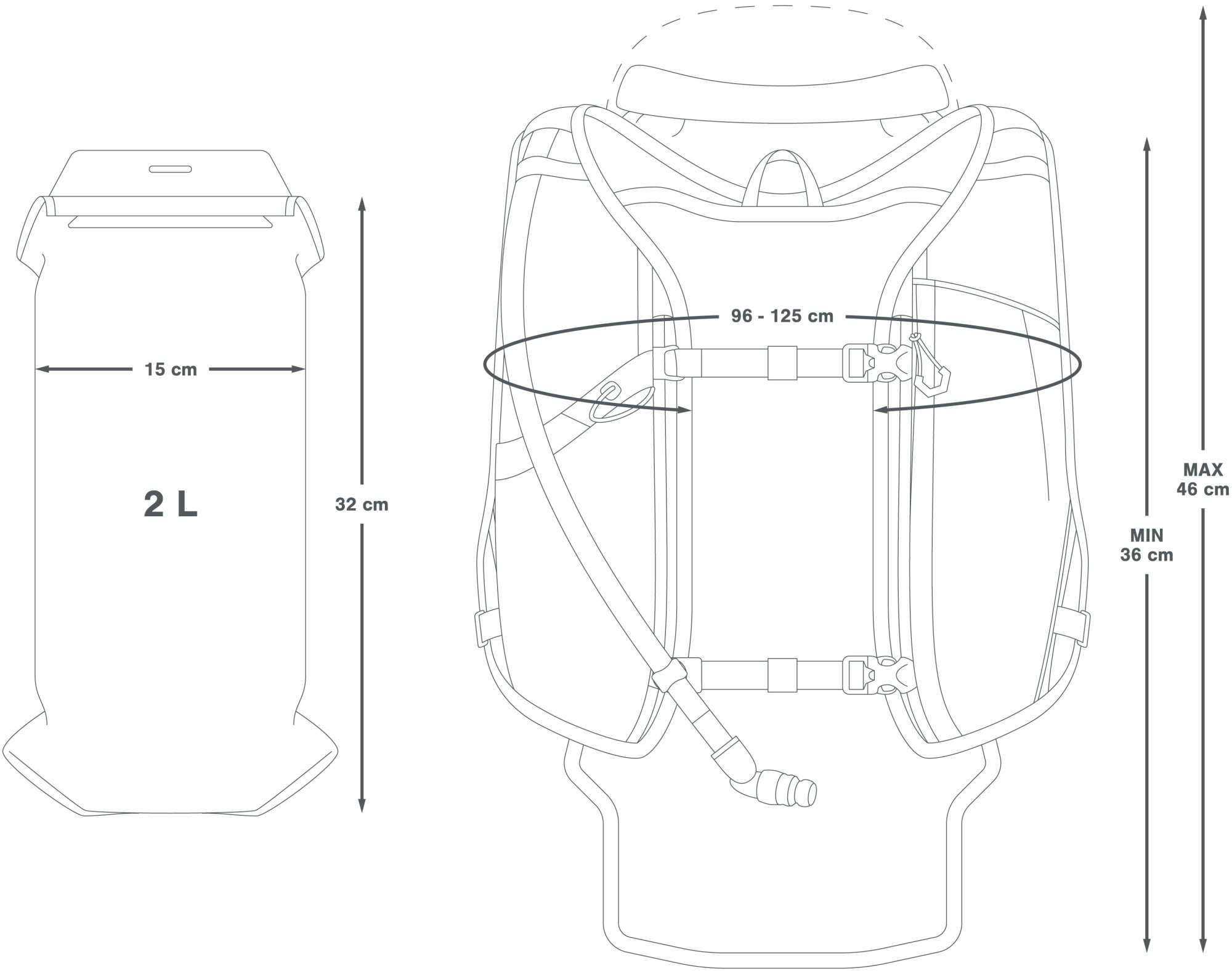 DESIGNED FOR FIT
The Backcountry Hydration Backpack is designed around an endurance on-bike anatomic fit, with the goal of being comfortable, secure and stable over many hours in the drops or on aerobars.
The neckline is cut low to avoid chafing or getting in the way of a helmet in an aero tuck, also falling below the neckline of most jerseys to avoid rubbing on any seams.
The front is shaped to be comfortable while in the drops, fitting high enough up the torso to avoid causing any chafing or impeding movement and the rear is high enough to ensure riders can still access their jersey pockets.
The sides are shaped to avoid any chafing around the arms, using an open construction and stretchy materials that provide a secure fit without restricting breathing.
---
Materials

Precision Crafted using lightweight, breathable and stretchy materials for enhanced comfort on the bike. The hydration pack uses technical materials and streamlined, 'less is more' design principles tailored to the demands of ultra-distance cycling competition.
---
APIDURA
We're an independent, family-run business of cyclists, makers and problem solvers, brought together by a shared mission to find better ways to explore the world by bike.
Apidura was born from necessity; pioneering ultralight, rackless packing systems to help us take our love of cycling further and allow riders to unlock their instinct for adventure. As devoted adventure cyclists, we design with our fellow riders in mind, creating products that address genuine needs and bring new value to the bikepacking scene. We create the best packs we can, using technical materials and precision crafting techniques – and when we find a way to improve them we do so straight away and without fanfare. We don't do 'seasons', limited editions or discount our gear – we simply create the best possible technical bikepacking gear that's built to last.