Get to know: Caleb Bottcher
From riding with his dad while he was training for long-distance running, to his first time on a mountain bike, to what drew him to compete. Get to know XC racer, Caleb Bottcher -
• April 9th 2020>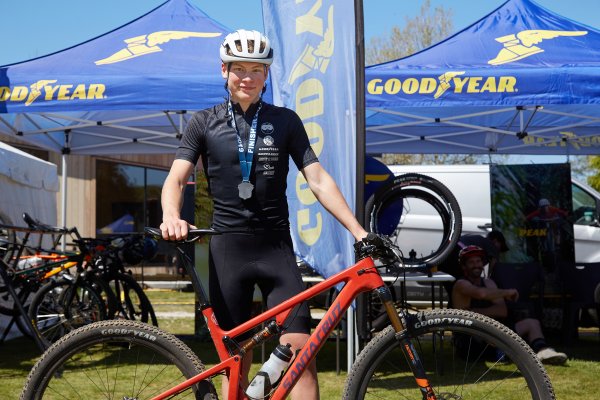 Wide Open: Hi Caleb, can you tell us a bit about where you grew up?
Caleb Bottcher: Hi guys! I was born and bred in Palmerston North and am in my first year out of school. Palmy gets a hard time but is a great place for both cyclists and mountain bikers so it suits my needs pretty well!
WO: Where are you currently working?
CB: Aside from training, I spend the majority of my time studying a Bachelor of Accountancy by distance through Massey University -
I have been working at Central Bicycle Studio for 5 years now and began working at Streetwise Coffee last winter.
I manage to squeeze a bit of each into my busy schedule and then step things up in the uni holidays. I'm really enjoying the new and exciting challenge of being a barista!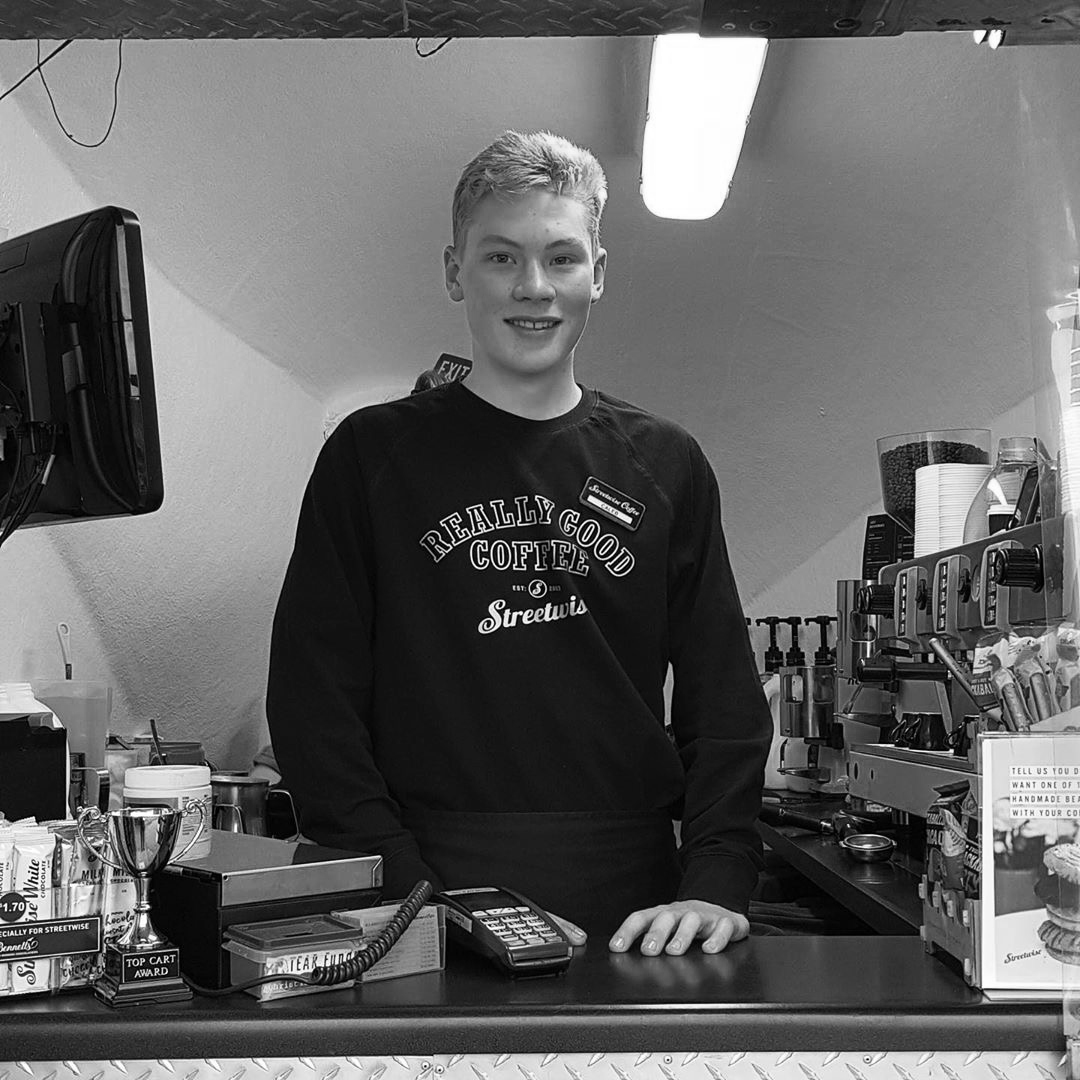 WO: Can you tell us a bit about your average day at Central Bicycle Studio?
CB: I'm a bit of a jack of all trades here haha! Cleaning, sales, washing bikes, stock entry, running errands, data inputting and the odd workshop job. My main goal is to minimise the disruptions for the others and improve efficiency - whatever that takes at the time! Saturdays are more relaxed and focus on the yarns and sales.
Central Bicycle Studio and Streetwise Coffee, along with other sponsors support Caleb's XC racing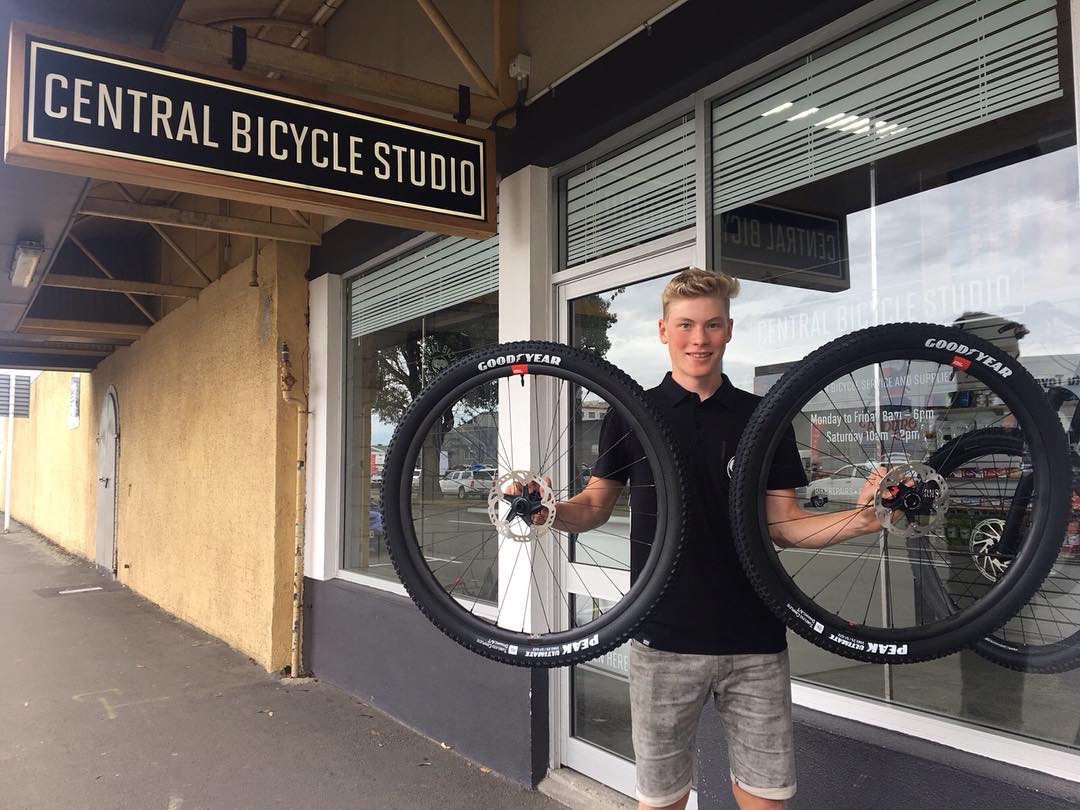 Caleb is sponsored by Goodyear tyres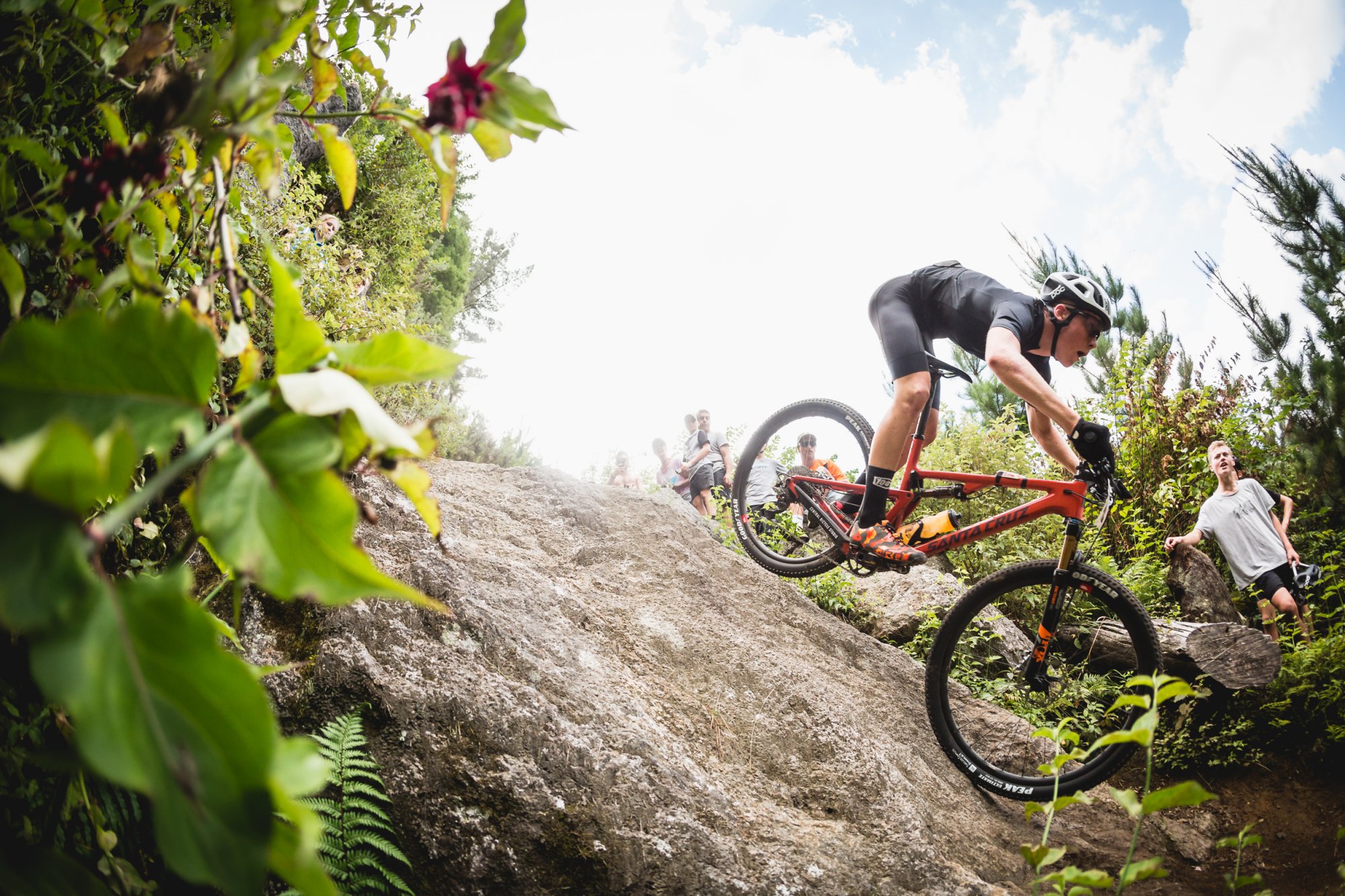 Central Bicycle Studio and Streetwise Coffee support Caleb's XC racing
WO: When did you start riding and what got you into it, and most importantly, what kept you hooked?
CB: I started mountain biking about 7 years ago when I got bored of riding alongside my dad while he did his long distance run training. Rather than have me give up bikes, Dad took me up the hill and said that I should try mountain biking. It was an absolute struggle and was pouring with rain but I loved every second! The constant chase for that "rush" has certainly kept me hooked on bikes and I like the purpose it brings to life. Seeing the training or practice pay off has been satisfying the whole way through my progression.
WO: Who taught you how to ride a bike?
CB: Dad taught me to ride a bike as a youngster, but as for mountain biking, I owe that to everyone involved with the local skills development nights. Plenty of Thursday nights spent honing the craft there. Particular mention goes to Lynn Carne for the ride opportunities as a beginner. Nowadays, Matt Miller of MTB PhD is responsible for my coaching!
Bikes can be enjoyed in so many ways so find what it is about them that you like and then go for it! Bikes will take you to new places and you'll meet cool people, so appreciate the rad things you do along the way.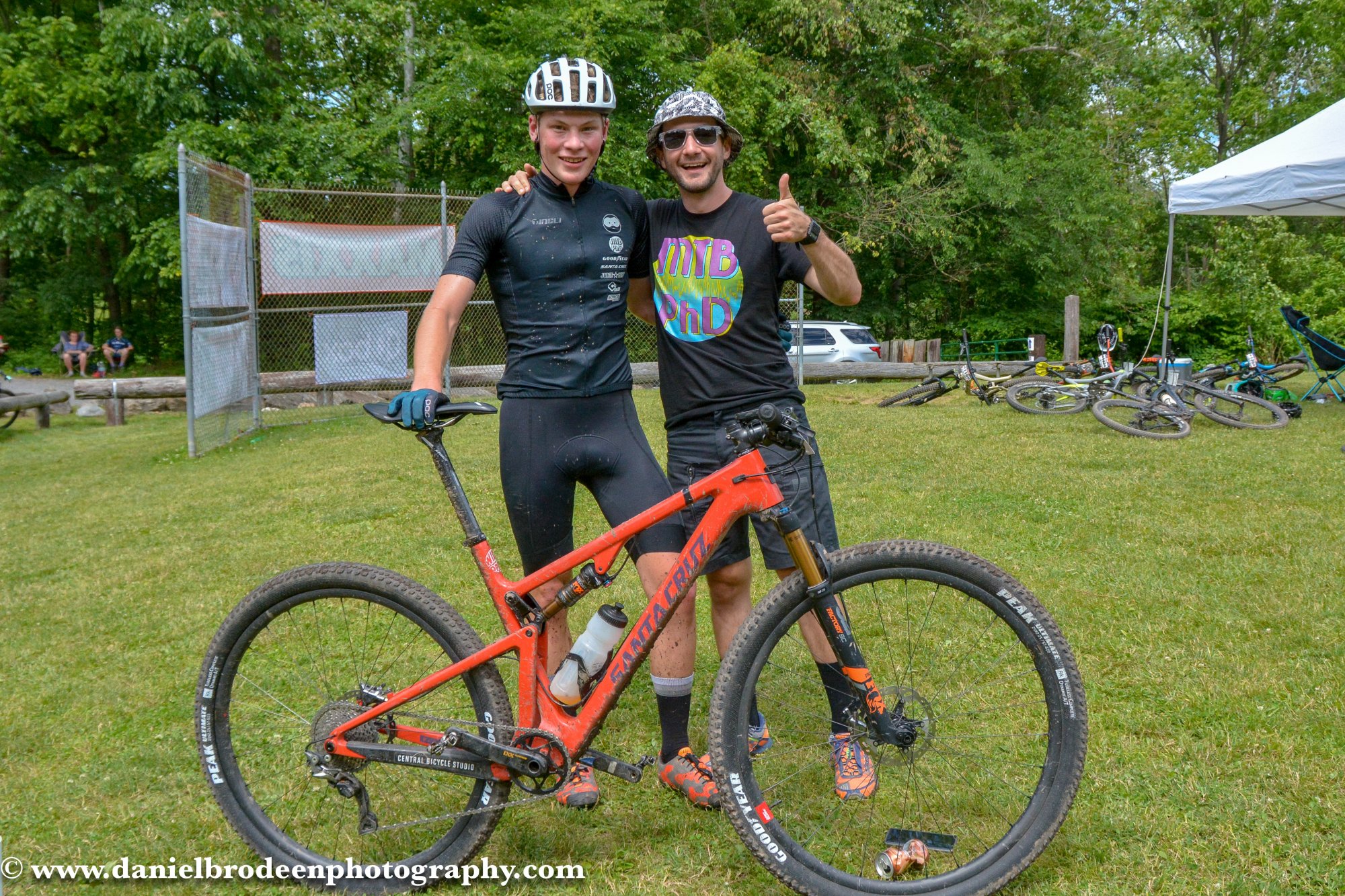 Photo: Daniel Brodeen Photography
Caleb and coach, Matt Miller - MTB PhD
WO: What advice would you give to someone interested in taking it up?
CB: Bikes can be enjoyed in so many ways so find what it is about them that you like and then go for it! If that's racing: It's never too late to get better, hard work and consistency will have you racing alongside people you never thought you would. Bikes will take you to new places and you'll meet cool people, so appreciate the rad things you do along the way!

WO: You recently have been working on building up two new bikes, can you tell us about them?
CB: I sure have, exciting times! First up was a new colour-way Santa Cruz Blur CC which is my 100mm full suspension xc race bike. This was mostly a swap over from my old Blur, including my Goodyear Peak tyres, AbsoluteBLACK oval ring, ODI Float grips and a new Enve Seatpost.
The next build is patiently waiting for the lockdown to end and is a Santa Cruz Tallboy. As an xc racer, I was keen to go with a shorter travel (120 / 130mm) trail bike for a more similar feel and to better suit our local trails. Being a second bike, this one is alloy and the build a bit more budget focused. However, the tyres and touch-points are key for me as these contribute a lot to the feel of a bike. For this build I chose Goodyear Newton 2.6" tyres, SDG Radar saddle and Tellis Dropper, ODI Elite Pro grips, Thomson X4 stem, FSA Headset and an absoluteBLACK oval ring.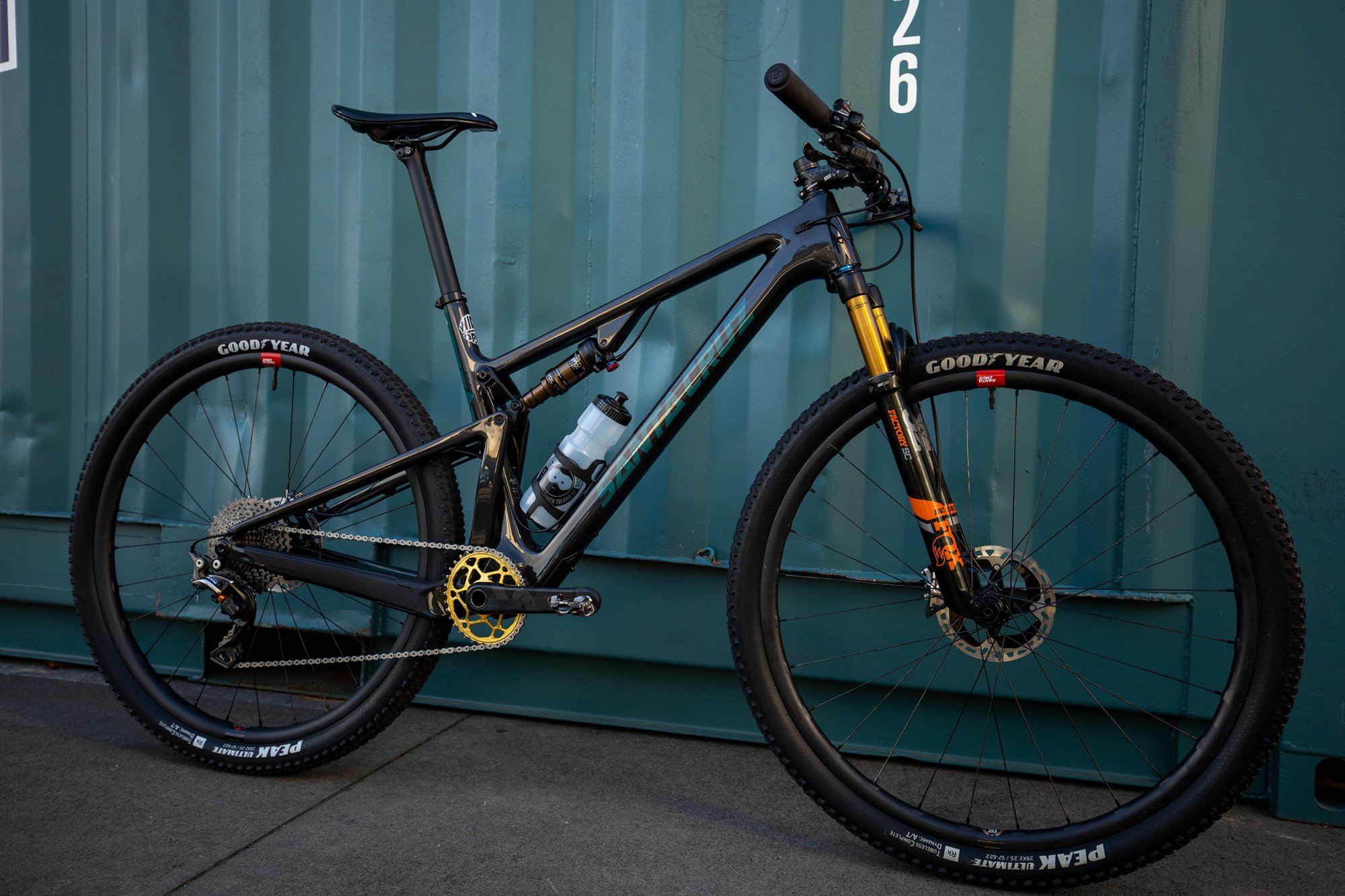 WO: When did you decide to compete in events? What appealed to you about XC?
CB: Racing at a club level was a natural progression from the skills development programme early on for me, but my first national level race was in 2016. I love the physical challenge of xc racing and pushing all aspects of my limits. I also like that the race is a matter of hours as opposed to minutes, with more time to seperate yourself from others. With this comes training that is predominantly aerobic, which is what I enjoy the most so that's ideal.

WO: What does the morning of an event look like for you?
CB: Race mornings are the best! All the equipment prep should be done the night before, so the morning is time to enjoy it and get in the zone. For me that's doubling up on the porridge, having a coffee and listening to loud rock music. I also go pretty quiet and try to visualise my race goals.
WO: Where is your favourite place to ride?

Locally, Te Ara o Mahurangi Trail is my favourite spot. My favourite XCO race course has been the Baie-Saint-Paul Canada Cup track.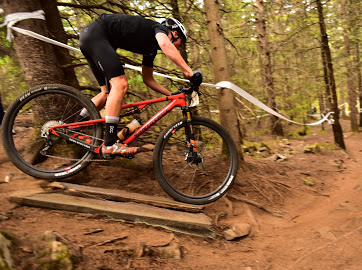 Baie-Saint-Paul Canada Cup track.
WO: How do you keep up your training and motivation up during the off-season?
CB: Planned rest periods are pretty important for consistency. It's really difficult to take time away but makes a huge difference. This combined with good goal setting will see you through the times when the going gets tough! I enjoy learning about why we train the way we do, so that motivates me because I know that I'm doing the right thing and it gives me purpose.
WO: What does life beyond bikes look like for you?
CB: I'm a bit of a foodie so that fits in well with all the training I do! Life gets pretty hectic so I usually spend any spare time with Tegan. Hikes, Netflix and the beach are our go-to's.
SUPPORTED BY
CENTRAL BICYCLE STUDIO, MTB PHD, WIDE OPEN, GOODYEAR BICYCLE TYRES, POC SPORTS, ABSOLUTEBLACK, STREETWISE COFFEE