Introducing the ENVE 45 and 65: Speed more, spend less
ENVE's core aero and road technologies delivered to you in a U.S. made, $2,799 package.
"A more accessibly priced wheel collection has been on our project list for many years now"
• April 22nd 2020>
ENVE is bringing a new foundation for speed, strength, and stability.
The first installments of the Foundation Collection come in the form of two purpose-built aero road wheels developed to meet the demands of the modern road cyclist and triathlete – the ENVE 45 and 65.
The ENVE 45 and 65 are named after their respective rim depths and pay tribute to the original ENVE road wheels that were introduced to the aftermarket in 2007.
The ENVE 45 and 65 benefit from a knowledge base established over more than a decade's worth of aero wheel development
ENVE Foundation Road Technologies
---
Each wheel in the Foundation Collection features a host of proprietary technologies essential to achieving the best-in-class designation.
Foundation Aero Technology
The ENVE 45 and 65 benefit from a knowledge base established over more than a decade's worth of aero wheel development of the premium Smart ENVE System (SES) lineup. Given the advantages of efficiency and stability that good aerodynamic design brings, ENVE states that good aero performance is a fundamental right for all of ENVE's customers.

To achieve the low drag, high stability performance that the ENVE 45 and 65 rim shapes provide, ENVE has taken cues from its SES rim shape development with the major difference between Foundation and SES being that the Foundation rim geometries are matched front to back whereas SES wheelsets feature rim shapes specifically optimized for the front and rear positions on the bike. As a result of this development, the ENVE 45 and 65 deliver drag reductions similar to, or better than, the competition's wheels that are well upmarket in price.

The ENVE 45 and 65 are most efficient when paired with a 25mm (labeled) tubeless road tire. For riders wishing to run larger 28mm tires, aerodynamic losses are minimized by the efficiency of the rim's shape, and losses are readily recovered by the rolling efficiencies gained from the higher volume tire.

Tubeless Compatibility
Like aerodynamics, the performance that tubeless can provide makes it a foundational technology for all ENVE wheels. The ENVE 45 and 65 feature a 21mm internal rim width and a hookless bead profile. Hookless has been a hot topic in recent months. According to ENVE this is why they choose a hookless design for their wheels.
RIM PROFILE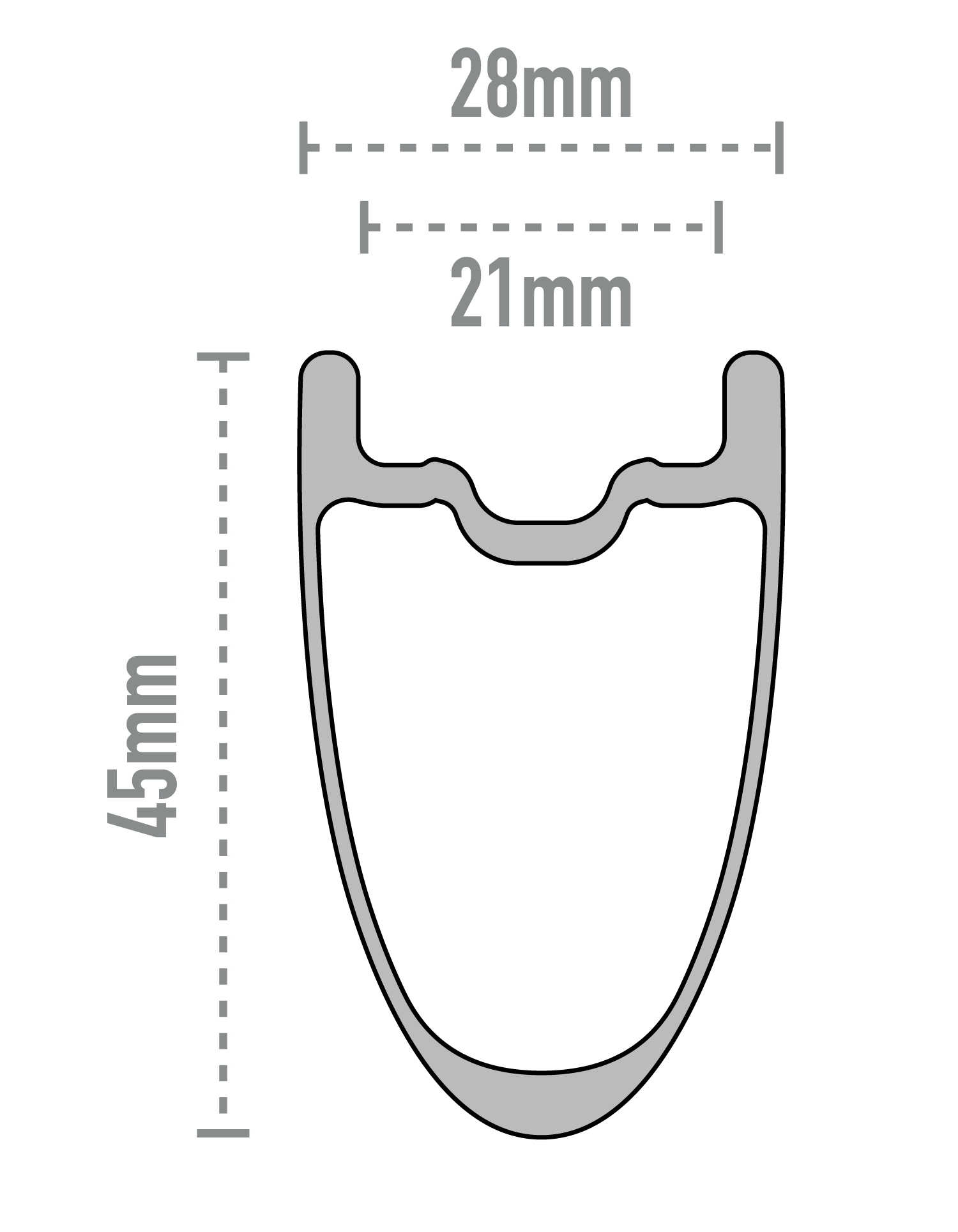 "Road tubeless is still a fairly misunderstood technology. Riders understand that there are performance advantages to the system, but don't always understand how a good tubeless system is designed to work. Essentially, for a trouble-free tubeless setup, the rim and tire interface need to be precise. We choose hookless because it allows us to consistently produce the critical dimensional tolerances tubeless requires," stated ENVE's VP of R&D, Scott Nielson.
Given the disparate rate at which rim and tire technology have progressed in recent times, ENVE developed an in-house tire qualification test to determine tire compatibility with the brand's SES AR line which also features a hookless design. To aid the consumer through their tire purchasing decision and setup, ENVE has provided a list of available tires that have been tested and approved for use with the new wheels. For a tire to be approved and recommended for use, it must pass a maximum inflation test where the tire is inflated to 1.5x the max pressure of the rim or tire, whichever is lowest.

Additionally, ENVE has a tire pressure chart to aid customers in achieving their optimal tire pressures.
Wide Hookless Bead
The ENVE 45 and 65 also feature ENVE's patent-pending Wide Hookless Bead technology. This technology is defined as a wide surface at each of the rim's leading edges. By creating a larger surface area at the rim's leading-edge, impacts from curbs, potholes, and debris are distributed over a larger area, reducing the likelihood of pinch-flatting tubed and tubeless tires alike. Additionally, this feature increases the rim's impact toughness.
Patented Molded Spoke and Valve Stem Hole Technology
(Patent #US 8,313,155) – ENVE's patented process of molding spoke and valve stem holes results in rims that are stronger and lighter. Because carbon fiber gets its strength from continuous fibers, ENVE routes the fibers around the hole without cutting them which increases the strength of each spoke hole. This technique pays large dividends in the final product by creating a lighter and stronger rim.
Foundation Road Hub
The ENVE 45 and 65 are built on a new road hub that utilizes the same internals as ENVE's premium hub offering, but with a simplified hub-shell. Like their premium hub offering, the Foundation Road Hub utilizes the tried and proven ID360 40t ratchet drive mechanism and ENVE's maintenance free automatic preload system aptly referred to as Perfect Preload™. This system eliminates the possibility that the hub will develop bearing play and slop over time. It also eliminates the need for the consumer to adjust preload on their own as ride time is accumulated. Where bearings are concerned, the Foundation Road Hub features premium grade, fully sealed NTN steel bearings where ENVE's premium hub line features a custom NTN stainless-steel bearing for even greater longevity.
Lifetime Incident Protection and 5 Year Warranty