JAWBONE B-TYPE
ADVENTURE
-
EXPLORE ANYWHERE
The Jawbone B-Type frame is the perfect platform to build your dream drop bar mountain touring and bike packing rig.
or 4 interest free payments by Zip
info
Delivery
FREE on orders over $99
Returns
30-day returns. Read our policy.
SOMA - JAWBONE B-TYPE FRAME
The Jawbone B-Type frame is the perfect platform to build your dream drop bar mountain touring and bike packing rig. While it is still game for riding gravel and singletrack, it is in its element when packed up for your next adventure.
Tange Prestige heat-treated butted CrMo steel; butted CrMo rear end
IRD Broski Sliding Dropouts allows for running derailleurs as well as geared hubs like Rohloff. You can also convert it to single speed if your derailleur conks out on a ride. (Stock dropout insert is for 135mm QR. 142 x 12mm Thru-Axle inserts available separately)
IS disc brake mounts on rear
Front derailleur compatible (bottom pull)
Rear rack and fender eyelets
Two sets of bottle cage bosses; one set of cargo cage bosses on downtube
44mm headtube: Fits 1-1/8" steerer tubes and tapered steerer tubes with a headset swap
27.2mm post size/28.6mm frt. der. size/29.8mm seat collar, 73mm bottom bracket (English threads)
Tire Width Range: 27.5 x 47mm to 2.6" / 700c x 38mm to 29 x 2.25"
Sizes: 650b only: 50cm, 52cm. 700c: 54cm, 56cm, 58cm, 61cm, 64cm
SPECIFICATIONS AND RECOMMENDATIONS
FRAME

Headset for optional 1-1/8" matching fork: SHIS: ZS44/28.6 | ZS44/30). If running a tapered steerer fork, get an EC44 lower cup
Front derailleur: 28.6mm ID, bottom pull
Seatpost: 27.2mm
Seat collar: 29.8 or 30.0mm (not included)
Rear hub spacing: 135mm
Brakes: Disc (IS mount 160mm rotor)
Bottom bracket shell: 73mm wide, English threads
Max.Tire Clearance: 29 x 2.25 and 27.5(650b) x 2.5". On size 50cm and 52cm, we recommend not using tires more than 27.5 x 2.2 to reduce toe overlap issues
Chainring clearance: Mountain 1x and 2x, Shimano GRX 2x 48/31
Guides for full length cable housing
Water bottle bosses: On seat tube and under down tube
Cargo cage Bosses (Three-pack mounts): One set on down tube.
Rack and Fender mounts: Two at dropout
Max. weight with rider and load: 270 lbs/122 kg.
Acceptable fork lengths: 417-425mm
Acceptable fork rake: 44mm - 50mm
FORK

Axle to crown: 420mm
Rake: 50mm
Steerer length: 300mm
Hub compatibility: 100mm QR
Four sets of three-pack mounts at 45 degree angles.
Inside/outside leg pannier rack boss
Rack and Fender mounts: Two at fork end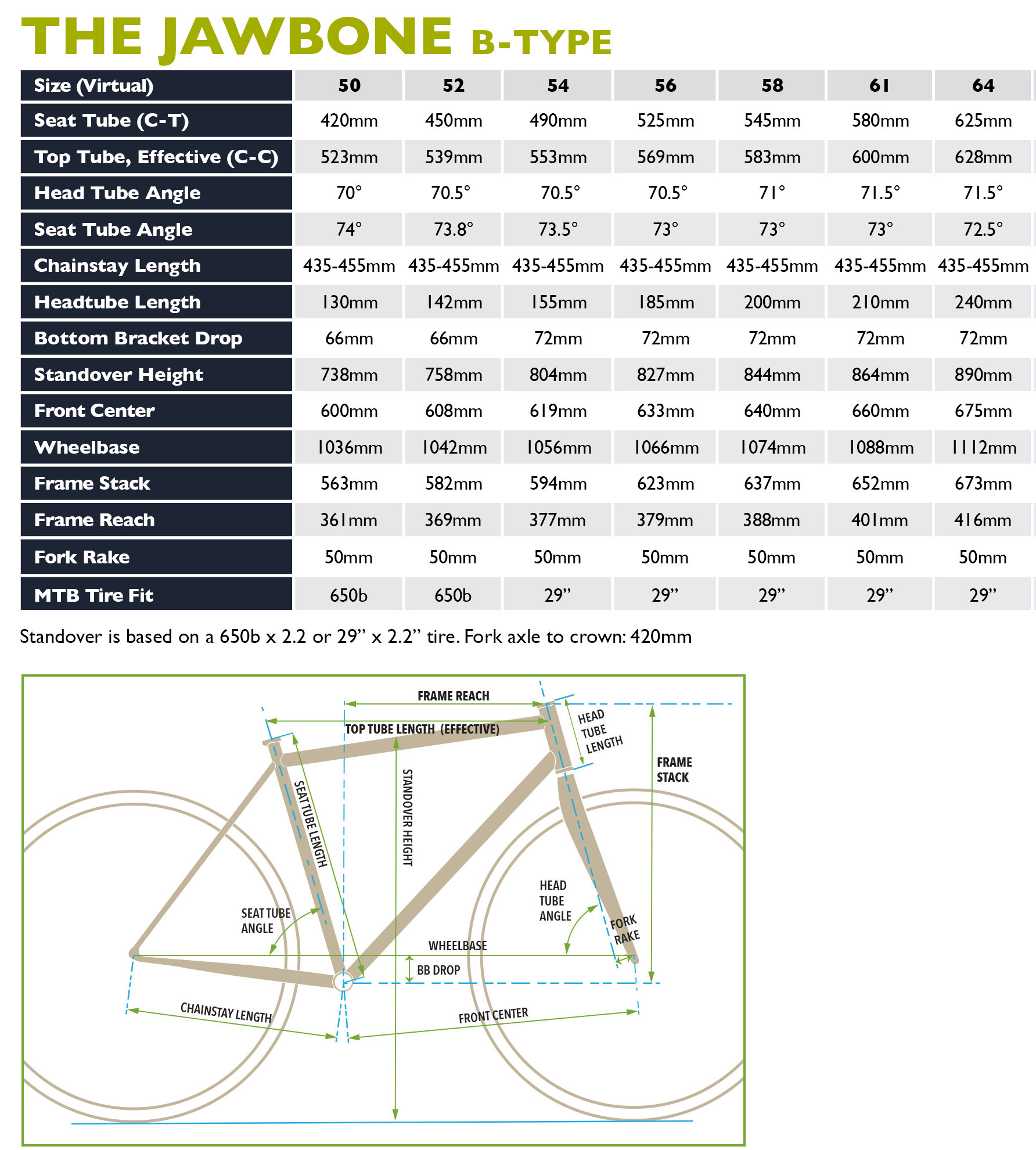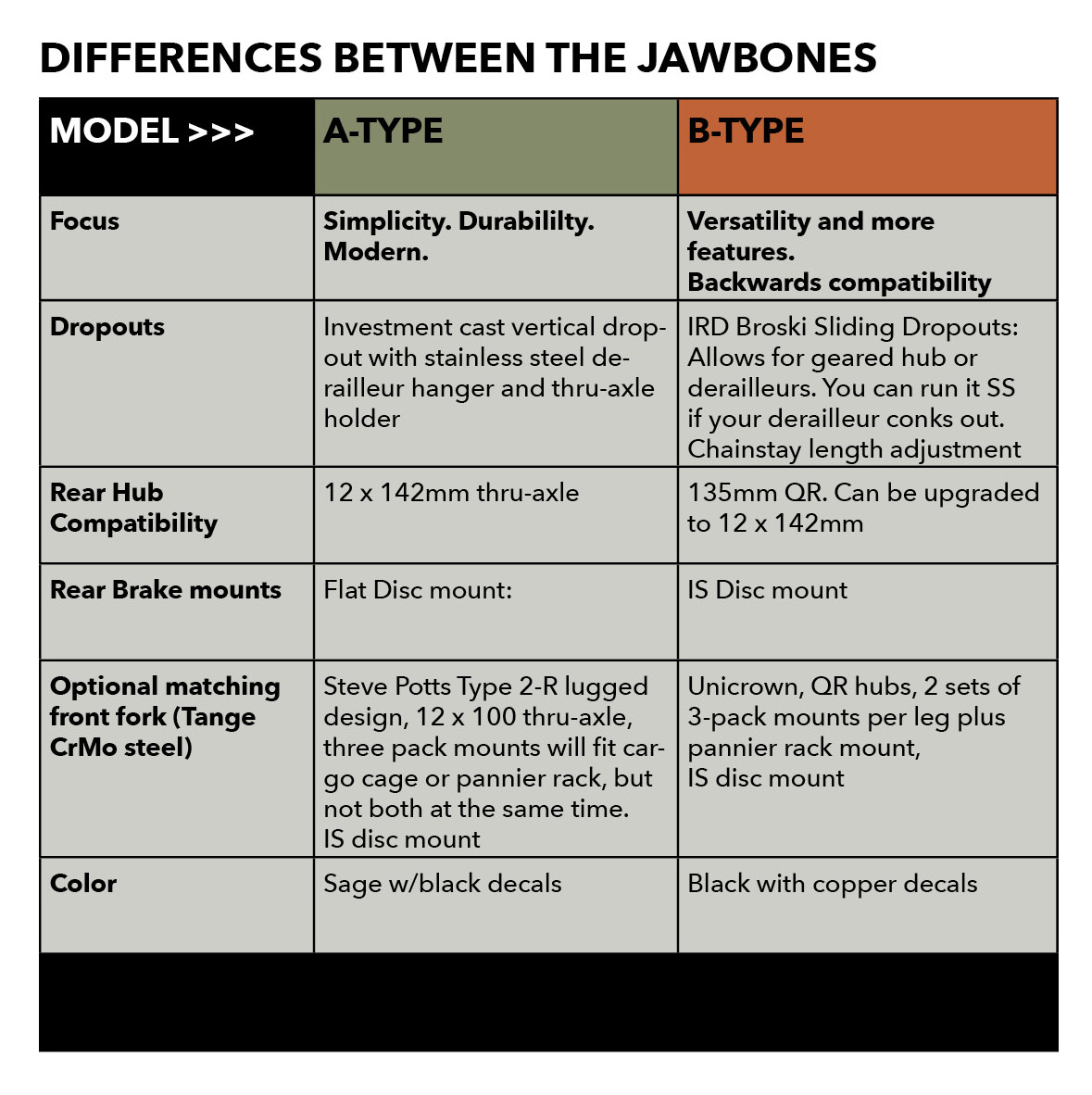 SOMA - JAWBONE B-TYPE FRAME
JAWBONE FAQ
Can I run a carbon fork on the Jawbone?
You can run a carbon fork, but note the fork you choose will probably not be as durable for bikepacking or fit as wide a tire as the steel forks we offer as options. Note also our largest frame requires a steerer at least 350mm and not many carbon forks have that.
The Jawbone frame is designed around a 420mm fork with a Zero Stack (ZS44) headset. Most carbon forks have a tapered steerer and require a EC44mm External Lower Cup headset. An external cup adds stack, so it need to be added to the over all fork length. (We use a 12mm lower cup in the illustration below)
1) IRD MCX Max - 406mm + 12mm = 418mm
2) Whisky No. 9 MCX - 415mm + 12mm = 427mm
3) Lithic Hilli - 420mm + 12mm = 432mm
The Lithiic Hilli could noticeably change how the Jawbone steers. So will forks 400mm and shorter, so we don't recommend them
How rowdy can I get on a Jawbone? Can I ride it like a modern trail bike?
In terms of durability and capability, we would describe the Jawbone as gravel bike that fits mountain bike tires. It is stiffer and has a longer wheelbase than the Wolverine frame to carry loads more confidently. It has more slope to the top tube, so it feels more like a mountain bike. But the frame, though stiffer, is not as ruggedly built as our hardtail frames. It is not suspension ready, so you probably can't ride it as hard a modern "trail" or "down-country" bike anyway. Gravel. Singletrack. Rolling terrain. Not a fun bike to bomb down black diamonds. Pick smart lines on rugged blue and green trails and you should be alright.
Can I run a flat bar on the Jawbone?
Yes, but please keep in mind that the Jawbone is designed specifically as a drop bar mountain bike. Switching to a flat bar shortens your cockpit length a lot compared to how a traditional flat bar mountain bike would be designed.
Can I put a suspension fork on the Jawbone?
The Jawbone is designed around a 420mm rigid fork and is not compatible with 27.5"/29" mountain suspension forks. It could possibly fit some 40mm travel gravel forks, but those forks may be long enough to effect front end handling, are rather pricey for the amount of travel and may not have as much tire clearance as our matching rigid fork.
Does the Jawbone have a kickstand plate?
No it does not. That is probably the only reason we don't call the Jawbone a traditional loaded touring bike. Road touring bikes almost always have kickstands. The Jawbone is a bikepacking bike. Generally kickstands don't work that well on dirt and uneven terrain.