TANPAN
ADAPTER
-
THE NEGOTIATOR
The Tanpan makes Shimano 10- and 11-speed road shifters work with 10- and 11-speed mountain bike rear derailleurs.
or 4 interest free payments by Zip
info
Delivery
FREE on orders over $99
Returns
30-day returns. Read our policy.
TANPAN
The Tanpan makes Shimano 10- and 11-speed road shifters work with 10- and 11-speed mountain bike rear derailleurs.

Crossing boundaries and breaking down walls: the Tanpan brings the range and security of Shimano mountain rear derailleurs to Shimano-equipped drop-bar bicycles. This means a greater gearing range for bigger adventures, better chain security for rough terrain, and lighter weight and reduced complexity for the daily commute.
In order to deliver these benefits, the Tanpan amplifies road shifter cable pull to allow for seamless communication with mountain derailleurs. The result is ideal for riders looking to convert their road, gravel, cyclocross, or commuter bike to the simplicity and light weight of a single chainring – or for those whose riding demands lower gearing than a typical double can provide. With the addition of a clutch-equipped Shadow+ rear derailleur, the Tanpan provides unparalleled chain security for Shimano road drivetrains.
The 17g Tanpan installs in moments, tucking neatly above the rear derailleur, and an indexed barrel provides for quick and easy cable adjustment. Each Tanpan is CNC machined in the USA by Wolf Tooth and comes fitted with precision stainless steel hardware and a sealed cartridge bearing.
COMPATIBILITY
Compatible with most road, gravel and CX bikes.
Tiagra 4700 is compatible with Tanpan but for proper shifting use Tanpan 11spd and an 11spd rear derailleur with a 10spd cassette.
Deore M5100 rear derailleur is compatible with the Tanpan 11
ONLY Compatible with Tiagra 4700 when using Tanpan 11 and corresponding 11-speed derailleur.
The Tanpan 10 is compatible with Shimano M980, M780, M670, and M610 dérailleurs
10-speed Shimano mountain derailleurs may be used with only a slight decrease in shifting performance.
Shimano ST-RX400-R GRX 10 speed shift levers use a different cable pull than Shimano's 10 speed road shift levers. For proper shifting use Tanpan 11spd with a Shimano 11spd mountain rear derailleur and a 10spd cassette.
The Tanpan 11 is compatible with 11-speed Shimano road shifters and optimized for eleven-speed Shimano mountain derailleurs (includes new Dura Ace 9100)
The Tanpan 11 is designed to mount directly to adjuster-free cable stops on Shimano rear derailleurs. Tanpan 10 must be mounted inline for optimal performance.
COMPATIBILE DERAILLEUR AND CASSETTE COMBINATIONS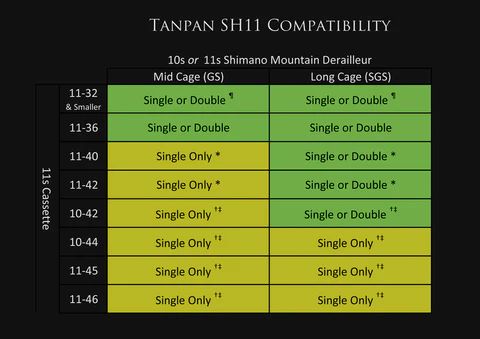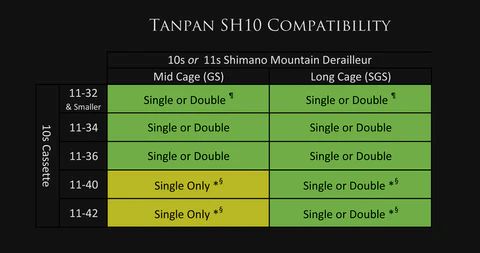 * GoatLink 10 Recommended for 10s Derailleurs
§ Achievable with Wolf Tooth GC40 or GC42 cog and compatible 11-36t cassette
† 11s Rear Derailleur Only
‡ GoatLink 11 Recommended for 11s Derailleurs


RECOMMENDATIONS
Always adhere to the manufacturer's published derailleur tooth capacity specifications.

1.1mm diameter shift cable is recommended and a new cable is always a good idea.
SPECIFICATIONS
Weight: 18g
Material: 6061 aluminum body, Delrin wheel, stainless steel bolt
Made in the USA Wolf Tooth and Lindaret collaboration
---
The Story
Wolf Tooth was founded to design and manufacture precision cycling products that emphasize function, performance, and reliability to meet the needs of our fellow racers and riders.
We are a group of cyclists in Minneapolis, Minnesota that spend a lot of time talking about bike components. Like most detail-obsessed riders, we're always looking for new products that could make our bikes lighter, faster, more versatile, or more reliable. We pride ourselves on delivering premium products of the highest quality.