Your Guide for Mountain Bike Frame Protection
Covering your MTB frame, cranks and forks to protect the shiny (and expensive) goodness underneath is a smart move. Not only does it keep it looking sharp but it's also great for maintaining resale value. Here's our guide to everything MTB frame protection.
• September 20th 2023>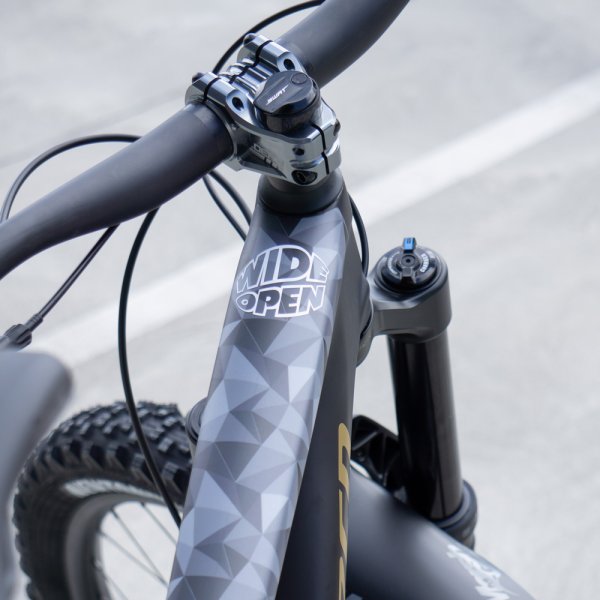 ---
Today's mountain bikes are more awesome than they've ever been, which also means that they're getting ridden more than ever, often in environments that are pretty rough on your bike. Covering your MTB frame, cranks and forks in protective vinyl to protect the shiny goodness underneath is a smart move, helping to keep your ride in tip-top shape and maybe even injecting a dose of personality along the way. There are different types of frame covering out there, and some will suit certain riders or applications over others.
What is Bike FRAME Protection Wrap?

Frame and bike protection wrap, often referred to as frame tape, frame wrap or frame guard is a specialised adhesive material designed to guard your bike's frame from the harsh elements it encounters on the trails. This wrap is typically made from a high-quality sticker vinyl or 3M tape. The primary goal is to provide a guard that protects your bike's finish, keeping it free from paint chips and scratches. Some protectors do their best to be nearly invisible, using clear vinyl that mimics the matte or gloss finish of your frame. Others come in patterns ranging from subtle to wild, so applying frame protection can also be a way to personalise your frame to reflect your style.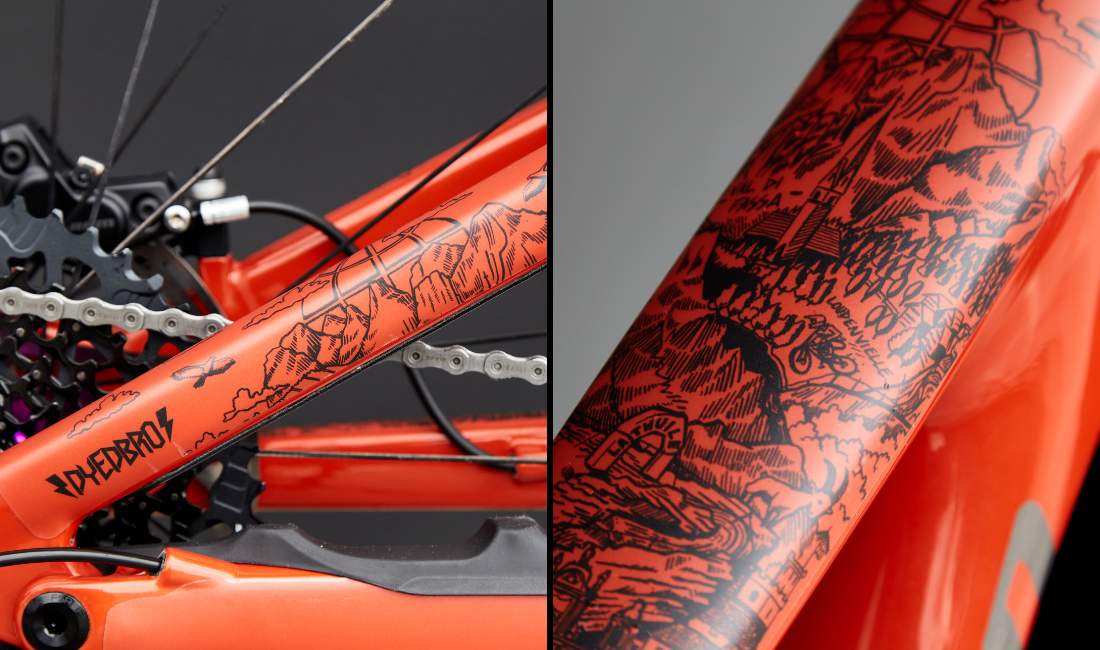 What BRANDS of MTB frame protection wraps are there?

There's heaps of different brands and options out there in NZ now, so it can get a little confusing to navigate. The most common that we see at the moment are DYEDBRO, Invisiframe, Ride Wrap, Lizzard Skin, Muc-Off & AMS (All Mountain Style).
Invisiframe & Ride Wrap
Both Invisiframe and Ride Wrap brands offer a similar solution; both are a clear gloss or matte wrap that is custom cut to the size and dimensions of your specific frame. They also require a wet installation meaning you wet the whole vinyl decal and squeegee out the water.
Pros: Good coverage over your mountain bike frame. Discreet look. Cons: Protection is thin, fitting requires patience and it's usually more expensive.
DYEDBRO, AMS, Lizzard Skins & Muc Off
These frame tape kits could be grouped in another category as these sticker decal kits offer a typical dry-fit approach to cover the main tubing areas on your frame, chain stays, seat stay and top tube. They use a more general fit so you don't need a frame specific kit. Although DYEDBRO do offer a different kit for MTB, E-MTB and kids specific bikes.
Pros: Simplicity of installation, optional patterns and personalisation, lower cost, thicker protection. Cons: Covers just the main impact areas.


How to Apply MTB Frame Wraps.
1. Preparation
The crucial point with all wrap types is that frame preparation is everything. It's easiest on a new bike, but even a bike that's seen some action will be fine to work on as long as it's spotlessly clean. Take the rear wheel out, remove any zip ties that might be keeping hoses or cables in your way, clean everything, then clean it some more with a lint-free cloth and some isopropyl alcohol. Any dirt or grease on there is going to ruin your day.
Pro Tip: Vinyl Stickers and Tapes mould to the frame better in warmer environments. If it's winter, crank the heat pump up a notch before applying!
2. Application
Wide Open has some helpful videos for the installation of DYEDBRO kits, which are one of the simplest to apply at home as they can be applied directly to the frame without sprays. Moisten your fingers whenever peeling the decals from the backing and handling the adhesive to avoid fingerprints, and don't be shy to reposition each decal as often as you need to before sticking it down. Gently warm it up and work patiently from the centre outwards to keep it smooth. Warm it well but don't get carried away with the heat or it starts to get too floppy to handle and deforms. It will go around corners and over bulges quite happily when it's warm and pliable, but there are limits to what you can get it to stretch around, so if in doubt play it safe and trim the decal to make some room. And on that note, it's worth getting a hobby knife and using a sharp, new blade for any trimming you're doing on the fly – you'll get much cleaner, tidier lines. When it's had a chance to cool down, use the included squeegee to smooth out any microbubbles and get it perfectly smooth.
Who is Frame and Bike Protection Wrap for?

No matter how careful you are, falls, accidental drops, trips on car racks and even the accessories you mount can mark your mountain bike frame's finish. With both novice and advanced riders alike riding premium bikes these days, frame wrap is a sensible addition to any new bike to guard it from all the abuse it will receive. With many bikepacking bags to choose from on the market, most of which strap onto your frame, frame wrap protection will also keep any surfaces these are in contact with safe from abrasion, whether you're using a simple food or accessory pouch or a full-blown Tour Aotearoa setup. As well as keeping your frame looking great, it's also a great way to maximise your bike's resale value once you're ready to move on – just peel off the wrap to reveal the original and pristine finish underneath. Because of this, even the most expensive frame protection wraps becomes a worthwhile investment.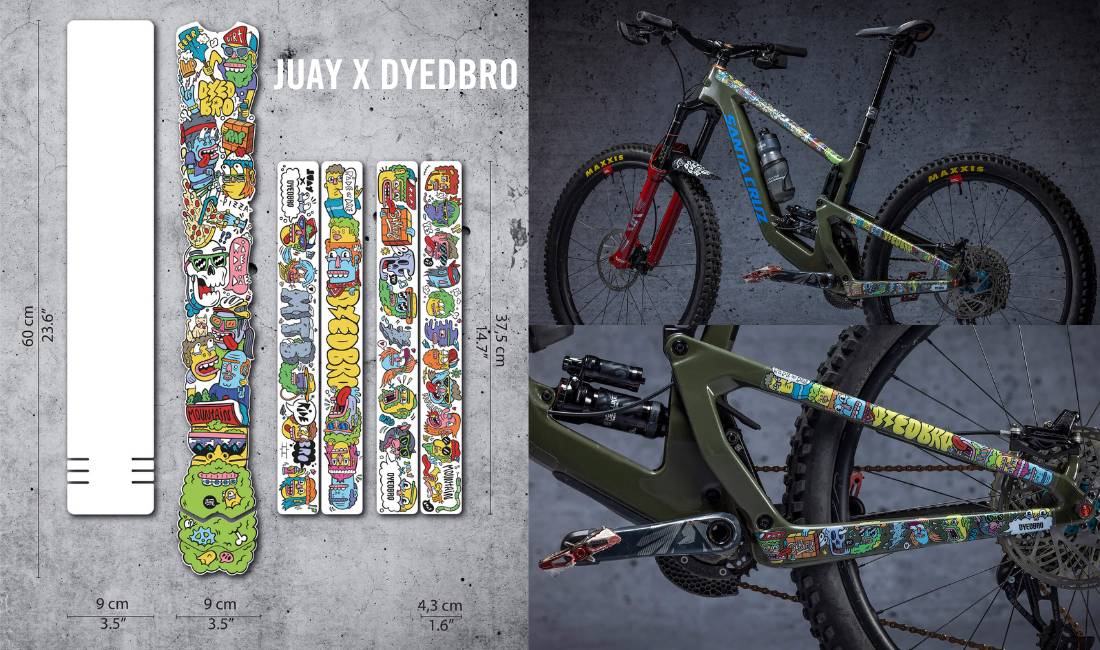 What Else can I protect on my MTB?

Ok, so it's not just your frame that needs protecting, the other components of the bike aren't exactly cheap either. DYEDBRO offer crank protection tape too, as well as fork protection tape. Marshguard & VHS also do a slapper tape which is great for chain whip against your chain stay. This not only protects the frame, but quietens down the chains trail chatter too..