DROP-STOP B
130 x 5 BCD
-
FOR ULTIMATE CHAIN RETENTION
The ultimate 1x chainrings for your 130 x 5 BCD crankset. They feature our patented Drop-Stop® design for the best wear life, chain retention, and mud clearance.
or 4 interest free payments by Zip
info
Delivery
FREE on orders over $99
Returns
30-day returns. Read our policy.
130 x 5 BCD GRAVEL / CX / ROAD DROP-STOP CHAINRINGS
Wolf Tooth was first to market with cyclocross 1x specific chainrings because we saw cyclocross as the perfect use for our patent pending Drop-Stop® technology. Since their release, the uses for these rings has expanded beyond Cyclocross to commuting, gravel riding, mountain bikes with 5-arm crank power meters, and even full on-road applications with the giant 50t rings.
Fits 130 BCD 5-bolt cranks.
Drop-Stop technology: On Wolf Tooth's patented wide/narrow chainring, the wide side of the tooth has maximum contact on the drive side which spreads the load and improves chainring life. The narrow side allows clearance for mud and debris which reduces friction.
Alternating wide/narrow tooth pattern prevents chain derailment.
COMPATIBILITY
These rings are for use with 130 BCD 5 arm cranksets.
Stock 2x bolts will not work. You will need bolts like our 6mm bolts, which are optimized for single ring mounting.
Chainline - varies - these rings can be mounted in either the big or small ring position on a double cranksets. The most common mounting is in the big ring position because of chainstay clearance. The ring centerline is ~2mm from the ring's mounting face, so they usually sit about 2mm closer to the frame than the stock big ring (depends on the stock ring).
Use Drop-Stop B for all 9, 10, and 11spd chains or 12spd KMC, Connex, Wippermann, Campagnolo, SRAM Eagle, SRAM Road and Transmission (T-type) Flattop chains.

DROP-STOP TECHNOLOGY
Wolf Tooth's patented Drop-Stop® wide/narrow tooth profile delivers ultimate chain retention and mud shedding ability.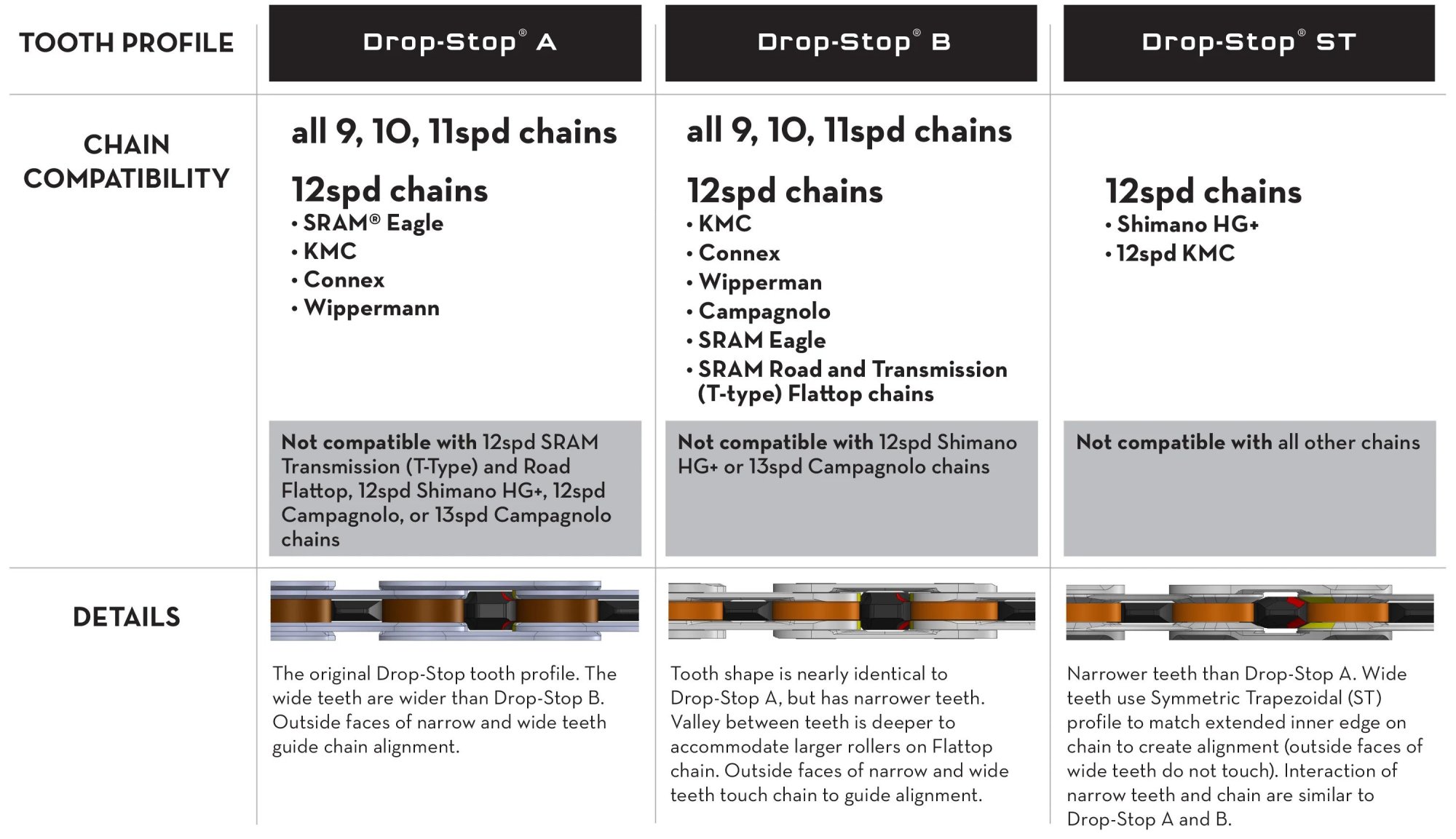 RECOMMENDATIONS
If you plan to ride in very muddy conditions, we recommend a chainguide or chainkeeper in addition to a clutch-type rear derailleur. Without these precautions, you may experience chaindrops and/or chainsuck.
We recommend the use of a clutch style rear derailleur for the best chain security.
---
The Story
Wolf Tooth was founded to design and manufacture precision cycling products that emphasize function, performance, and reliability to meet the needs of our fellow racers and riders.
We are a group of cyclists in Minneapolis, Minnesota that spend a lot of time talking about bike components. Like most detail-obsessed riders, we're always looking for new products that could make our bikes lighter, faster, more versatile, or more reliable. We pride ourselves on delivering premium products of the highest quality.