Bike Maintenance Made Easy!
You've just finished up your ride and your bikes looking a bit dirty, sound familiar?
Take your next bike wash to the next level with a bit of much-needed maintenance too... here's an easy guide from the team on how to clean and maintain your bike with our Juice Lube essentials.
• May 26th 2020>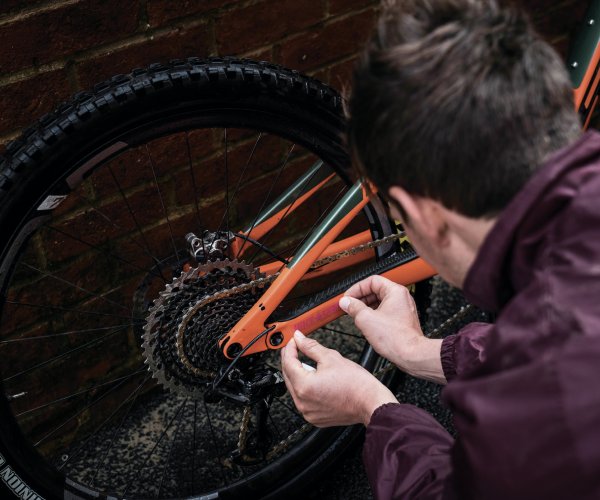 A how to - with Wide Open and Juice Lubes on cleaning and maintaining your bike!
We'll go over this in two steps - the wash, and some general bike maintenance made easy.
---
THE WASH
---
Dirt Juice Bike Cleaner
Step 1: Hose your bike with water to get it wet and the mud soggy and loosened up.
Step 2: Apply Dirt Juice across your bike giving a few extra squirts to the really muddy bits. Loosen up the worst of the mud with the Sponge Bob Clean Parts Sponge and Cloth Pack and let it rest for a couple of minutes for the Juice to work its magic.
Work a bit extra into your drivetrain to make use of DJ's degreasing powers. If the Drive Train is really dirty use The Dirty Little Scrubber Chain Cleaning Tool with the Dirt Juice Boss Chain Cleaner Degreaser
Step 3: Rinse with fresh water and work any last muddy bits the cloth from the Sponge Bob Clean Parts Sponge and Cloth Pack
Top Tip: Use JL69 to drive out left-behind moisture in those nooks and crannies where moisture will sit and cause harm. Particular attention should be paid to the rear derailleur, front derailleur, bottom bracket, suspension pivots, and cables.
Got a few hard to reach spots?
Sponge Bob Clean Parts Sponge and Cloth Pack are great to use in combo with Dirt Juice while washing your bike. Use the sponge to wipe away the worst of muddy bits. Use the cloth for the fine details, hard to reach spots.
The Dirty Little Scrubber Chain Cleaning Tool
Step 1: Fill the scrubber to the 'Max' line with undiluted Dirt Juice Super and leave the lid off.
Step 2: In position – Pop the scrubber up onto the chain just above the rear derailleur, making sure the hook bar is hanging down. Slide the lid on and lift hook bar up so that it sits behind your rear derailleur jockey wheel.
Step 3: Back pedal your chain and watch the Scrubber go to town on grease and grime. For the filthiest of filth, you might need to empty and refill the Scrubber. When you're done you can rinse your chain with clean water, lube your chain and retire to planning your next ride or adventure.
Frame Juice is your ticket to a box-fresh bicycle after even the most miserable of mud baths. It's the final step in your bike wash and guarantees that your bike will return to the garage gleaming with no streaks and stains, blotches or blemishes.
Frame Juice Frame Polish
Use Frame Juice as a spray-and-polish part of your bike wash or lash it on pre-ride to protect your bike with a mud-repelling force field.
Restore matte paint jobs, vinyl and plastic parts back to good-as-new brilliance and leaves a dry, non-sticky protective force-field behind that will shrug off mud and water.
Matt Finisher Detailer
Frame Juice Matt is your Blueberry scented secret formula to a beautiful matt finish. It protects and preserves, stepping in to buff your bike to brilliance leaving no streaks, smears, or oily marks.
It restores matt paint jobs, vinyl, and plastic parts back to good-as-new brilliance and leaves a dry, non-sticky protective force-field behind that will shrug off mud and water.
Did we mention it also smells nice and it's biodegradable?
It works a treat on mountain bikes, road bikes, and everything in between.
---
GENERAL BIKE MAINTENANCE
---
Fork Juice, Suspension Lubricant Spray and Cleaner
Step 1: Start by wiping off grime for your fork stanchion and shock shaft. Cover up your disc rotors to keep them safe from accidental squirts.
Step 2: Spray Fork Juice straight onto your fork's stanchions and seals and your shock's shaft and seal. Give your bike a bounce and push deep into the travel, then wipe off any gunk that Fork Juice frees up.
JL 69
Performs the essential task of displacing moisture that can cause rust, corrosion, and damage, leaving behind a lubricating and protective oil that increases component lifespan.
Use JL69 spray on your suspension pivots, derailleur pivots to drive out moisture, and resist any unwanted rust.
Make sure you don't spray it on your brake rotors or pads.
Viking Juice, All Condition, High Performance Chain Oil
Once chain is clean apply a thin layer of Viking Juice to the top of your chain whilst back-peddling your cranks. Wipe off any excess then repeat 3 or 4 more times – Viking Juice works best when layered up.