SPECIFICATIONS
APPLICATION: Road, Road Race, Triathlon, Time-Trial, All-Road
CASING CONSTRUCTION: Standard 1.0 Ply
TREAD COMPOUND: Natural and Synthetic Rubber Compound w/ Activated Silica
CASING/PROTECTION: Vectran™ Protection Barrier
DIAMETER: 700c
WIDTH: 25mm, 27mm, 29mm
E-READY: Yes
TUBELESS READY: Yes, Tubeless-Ready and Inner-Tube Compatible
RIM COMPATABILITY: Hookless and Hooked-Bead Rim Type Compatible
INNER RIM WIDTH COMPATABILITY: 25c (17-21mm) 27c, 29c, 31c (17-25mm)
WEIGHT: 25c (255g), 27c (265g), 29c (275g)
or 4 interest free payments by Zip
info
Delivery
FREE on orders over $99
Returns
30-day returns. Read our policy.
ENVE - SES Road Tyre - Black
WHAT IT IS
Tire shape and construction greatly influence aerodynamics, rolling efficiency, and our customer's confidence. SES Road Tires are proven in CFD and the wind tunnel to reduce drag, and are constructed to deliver rolling efficiency, durability, and a confidence inspiring ride – regardless of the weather.
WHY WE MADE IT
SES Road Tires are designed to complement our SES and Foundation rim models that utilize a hookless or hooked bead. With the introduction of the SES Tire Collection, the question of "what tires can/should I run on my ENVE wheels?", has been definitively addressed.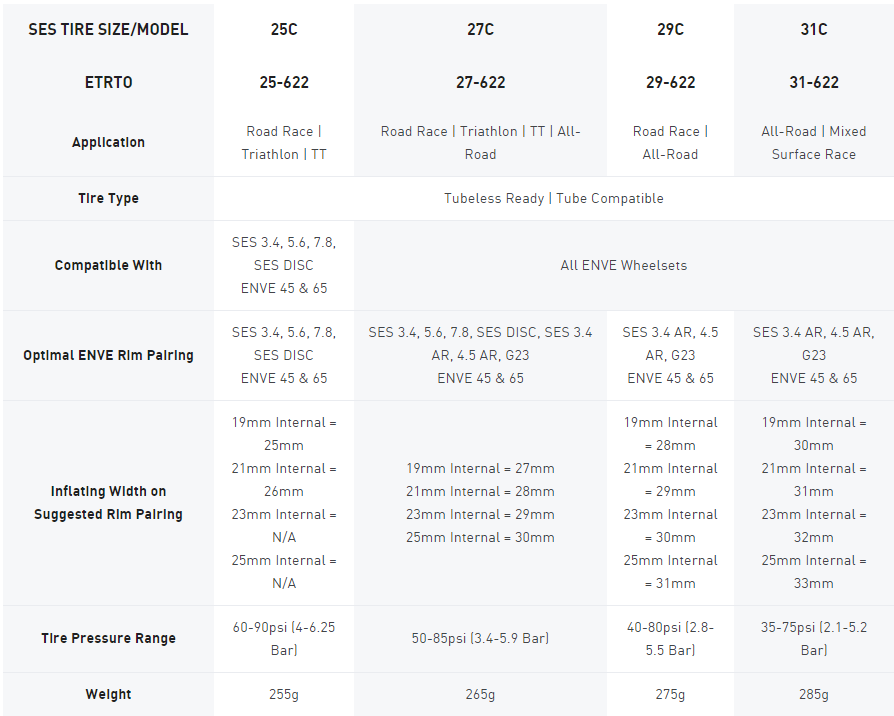 SPECIFICATIONS
APPLICATION: Road, Road Race, Triathlon, Time-Trial, All-Road
CASING CONSTRUCTION: Standard 1.0 Ply
TREAD COMPOUND: Natural and Synthetic Rubber Compound w/ Activated Silica
CASING/PROTECTION: Vectran™ Protection Barrier
DIAMETER: 700c
WIDTH: 25mm, 27mm, 29mm
E-READY: Yes
TUBELESS READY: Yes, Tubeless-Ready and Inner-Tube Compatible
RIM COMPATABILITY: Hookless and Hooked-Bead Rim Type Compatible
INNER RIM WIDTH COMPATABILITY: 25c (17-21mm) 27c, 29c, 31c (17-25mm)
WEIGHT: 25c (255g), 27c (265g), 29c (275g)
ENVE - SES Road Tyre - Black