EAGLE
F1 R
-
DEVELOPED FOR SPEED

APPLICATION: Road Race
CASING CONSTRUCTION: Tubeless Complete
TREAD COMPOUND: Dynamic:UHP
CASING/PROTECTION: 120 TPI Short Ply
DIAMETER: 700x28c, 700x30c
WEIGHT: 310g (28mm), 320g(30mm)

or 4 interest free payments by Zip
info
Delivery
FREE on orders over $99
Returns
30-day returns. Read our policy.
GOODYEAR ROAD TYRE - EAGLE F1 R TUBELESS
The future of Ultra-High Performance Race tyres has arrived. All-new advanced compounds, a re-engineered 120TPI Short-Ply casing, and unmatched tubeless performance deliver unreal wet and dry cornering grip, exceptional suppleness and durability, and the speed to carry you all the way to the winning sprint.

It's race day. Countless hours of preparation have brought you here. Like you, the Eagle F1 R has been in development for years. Technology underpins the evolutionary process, with third party data confirming leaps forward in performance.
The Eagle F1 R is ready for the win. Are you?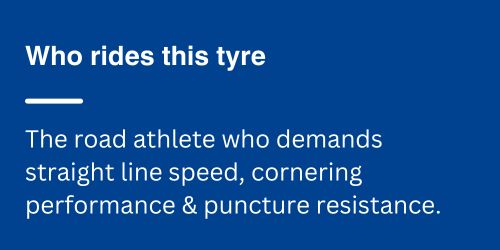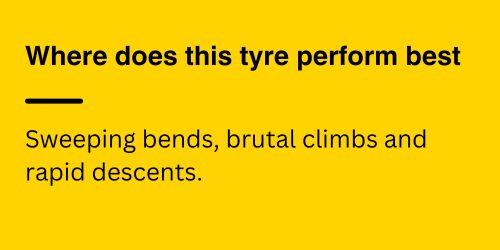 DESIGNED TO PERFORM AT THE HIGHEST LEVEL
The Eagle F1 R is the evolution of the Eagle F1, using cutting-edge technology and all-new advanced compounds and fabrics for class-leading, all-round race performance.
The Eagle F1 R is engineered to provide top-of-the-line edge to edge grip and speed, thanks to the all-new Dynamic:UHP compound. Combined with next generation tech, such as short-ply casing construction, the Eagle F1 R boasts a reduction in rolling resistance (CRR) of 13% at 80psi.
TUBELESS COMPLETE CONSTRUCTION
Tubeless Complete is a Goodyear Bicycle Tyres proprietary design that features all the benefits of a Tubeless Ready tyre with additional air retention and performance-enhancing properties.
A non-porous, multi-compound layer is added to the casing, improving air retention while providing additional puncture and cut protection. The material is extremely light and adds minimal weight.
This lining effectively seals the casing with an airtight membrane that doesn't consume sealant to stop air leaking out, as is typically the case with the majority of other tyres sold as Tubeless Ready systems that rely on sealant to stop air from bleeding through the sidewalls. Significantly more sealant remains after installation, ready for the moment you need it, and your sealant will stay liquid in the tyre for longer.
The fractional weight increase of the Tubeless Complete lining is more than offset by the weight saved by not requiring additional sealant to bind to the casing and seal pores, resulting in a competitive overall system weight with improved sealant longevity and performance.
DYNAMIC:ULTRA HIGH PERFORMANCE COMPOUND
A proprietary blend of synthetic and natural rubbers enhanced with Graphene and next-generation amorphous spherical Silica; our all-new Dynamic:UHP compound has been developed with the single purpose of expanding the 'Magic-Triangle' of improved Rolling Efficiency, Traction and increased Durability.
The combination of Graphene and Amorphous Round Silica allows us to independently improve:
Rolling Efficiency by 15.7%

Grip (Centre) by 19.0%

Grip (Edge) by 17%
% vs. Eagle F1 baseline, data from 3rd party testing, tested at 100PSI
SPECIFICATIONS
APPLICATION: Road Race
CASING CONSTRUCTION: Tubeless Complete
TREAD COMPOUND: Dynamic:UHP
CASING/PROTECTION: 120 TPI Short Ply
SIZES: 700c x 28mm, 700c x 30mm
WEIGHT: 310g (28mm), 330g (30mm)


---